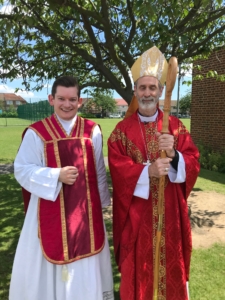 Deacon Gary Dench became a priest on 22 June after spending the last year working in the parish of St James the Less and St Helen in Colchester. He was ordained at his home parish of Collier Row by Bishop Alan Williams sm. "I wanted to celebrate it with my parish, family and friends – in the church where I became a Catholic, made my first Holy Communion and was confirmed."
Beforehand, he says, he felt restless and nervous.  "Priesthood is the culmination of all I have been working for over the last seven or eight years," he says. "But I calmed down during the Gloria."
"I found the actual moment of vesting – where you are helped to put on your chasuble – very emotional. You are dressed all in white and putting on the chasuble symbolises putting on the yoke of Christ, being embraced by Christ."
In contrast to his diaconal ordination of a year ago, this time all of the priests present followed the Bishop in the laying on hands during the Mass. "And later they welcomed me into the presbyterate of priests in the diocese through the exchange of the kiss of peace."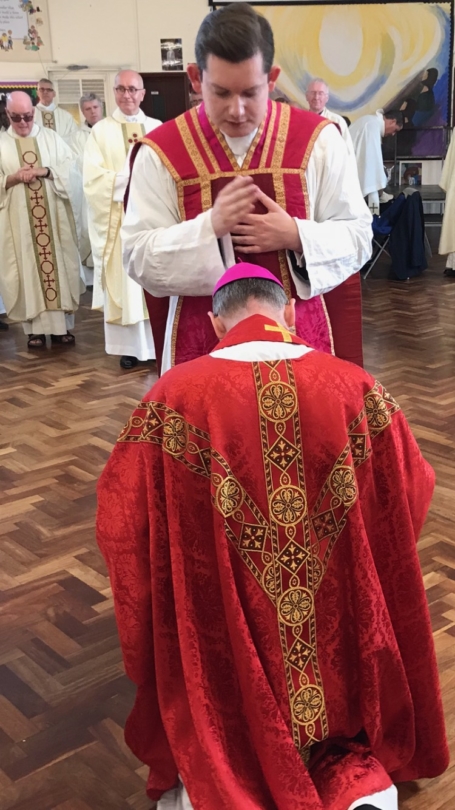 Afterwards, the newly ordained priest gave out first blessings. "The blessings carry an increase in grace for the recipients. The Bishop always has the first one," he says.
It is a similar thing with first Masses, he added. "They are Masses of thanksgiving for the gift of priesthood. One of the beautiful things about first Masses is that an assistant priest guides you and shows you what to do. There is obviously a certain trepidation although it is exciting and thrilling at the same time – to say the Eucharistic Prayer, to be in charge."
Gary's journey to priesthood began with his conversion to Catholicism. "I began life as an Anglican but when my grandmother took me to Walsingham I began to feel drawn to Catholicism through the procession of Our Lady, the rosary and Eucharist. That all fell into place when I was received into the Church by Fr Sean Shields in 2004."
Later on he began to think about priesthood and after a four year degree in Theology and Church History at Edinburgh, and work for an MP, a law firm and in politics, he decided to pursue his vocation.
After a year at Valladolid, he went on to study at the English College in Rome.  "The inspiration of an Anglican vicar I knew as a child, and the support and kindness of priests over the years in Rome and the diocese have brought me to priesthood," he says.
For anyone who is considering their own priestly vocation, he has some advice. "If you have a little niggle at the back of your mind, it will never go away. If God wants you, give it a chance. For me, being a priest is the way in which God wants to save me. Living out this dream he has for my life will bring me to eternity with him."
He continues: "We all feel trepidation about the kind of life we will lead, but God will never ask the impossible of us, something we cannot do. For me this is something to embrace – a wonderful journey and adventure."