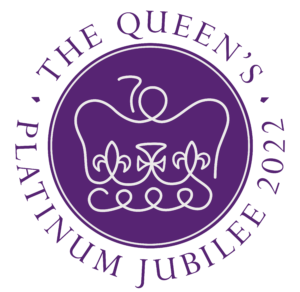 Bishop Alan Williams sm is to plant a tree at Pentecost in the Cathedral Parish grounds to mark the Queen's Platinum Jubilee – and he is encouraging parishes across Essex and East London to get involved in the celebrations. In the first week of February, the Queen became the first British monarch to celebrate a Platinum Jubilee, marking a 70-year reign. Celebrations are scheduled for a warmer time of year and present a bright spot on the horizon, not only for the Queen herself, but also for communities up and down the land who have been enduring pandemic blues. Even Republicans will relish a four-day weekend in June!
Details of the centrally organised events to mark the Queen's 70-year reign have been widely publicised but there are many opportunities for people to get involved locally, from planting trees to creating recipes, from singing together, to developing artistic or cultural creations.
The 'Plant a tree for the Jubilee' Queen's Green Canopy project has been underway since October, with an estimated 60,000 trees already in the ground. Individuals, parishes, groups, villages, cities, counties, schools and businesses are all being encouraged to plant trees through to the end of the Jubilee year in 2022. The project chimes well with our own Laudato Si' diocesan initiative, launched last year by Bishop Alan. Romford parishioners (below) recently planted a tranche of trees as part of that project.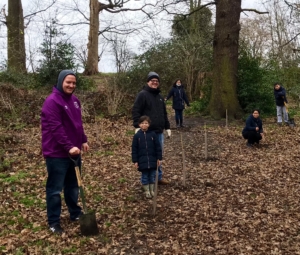 Lord Lieutenant of Essex Jennifer Tolhurst is keen to ensure that the country leaves a legacy worthy of the Queen's extraordinary service. "I would encourage everyone, individuals, businesses, schools, groups and organisations, to join this initiative to plant a tree. The people of Essex can lead the way in this celebration and by doing so help to ensure the county also leads on protecting the environment for the future."
The www.queensgreencanopy.org website offers advice for a range of scenarios and the initiative is being supported by The Woodland Trust, which aims to plant 50 million trees in the UK to help combat the climate crisis. It is providing free tree packs for schools, nurseries, colleges, universities and outdoor learning centres and groups such as resident associations, sports clubs, parish councils, scouts, guides and many more. Its website says: "You don't need to belong to an official organisation. You could even set up a group for the purpose of planting, but you must be not-for-profit. The most important thing is that your group is willing to take on the planning, planting and care of the saplings."
Applications for free trees will open this spring for November 2022 delivery but if you can't wait, or don't qualify for free trees, you can buy packs or single trees at reasonable prices via the online shop all year round. And there is a lot of guidance about species, size and situation as well as specific mixes for pollinators or other purposes. You can register your tree on the map at Map – The Queen's Green Canopy (queensgreencanopy.org).
Around 1,500 locations across the UK, the Channel Islands, Isle of Man and UK Overseas Territories will light a Platinum Jubilee beacon on the evening of 2 June at 9.45pm. The locations range from the Queen's Sandringham and Balmoral Estates and the Tower of London to farms and country estates, to villages across the land. Forces charity Walking with the Wounded will light gas-fuelled beacons on top of the four highest peaks in the UK – Ben Nevis, Scotland; Scafell Pike, England; Mount Snowdon, Wales, and Slieve Donard, Northern Ireland.
A guide to taking part in the Beacon celebration also asks individual pipers and pipe bands across the UK and the Commonwealth to play 'Diu Regnare', written by Champion Piper Stuart Liddell, from central locations within their communities in the lead up to ignition. Buglers are being asked to then play a unique bugle call, entitled 'Majesty' while choirs of all types and sizes are warmly encouraged to sing 'A Life Lived with Grace' at precisely 9.45pm. The song is the work of a Nigerian Catholic priest, Fr Atueyi Vincent Chinemelu (composer), and Lucy Kiely (lyricist) from Australia and was selected through a competition organised by Commonwealth Resounds.
Churches Together in England is encouraging church choirs from all traditions to take part. "This is an opportunity to join together ecumenically, and with the wider community, to make music and build community. I hope that every choir in the land will find ways of embracing such a unique opportunity to make music together…forming new friendships and deepening existing ones…." said General Secretary Rev'd Dr Paul Goodliff.
Choirs taking part can represent their local community from a location of their choice, says the guidance. You can register your choir and find out more at www.commonwealthresounds.com/news/a-song-for-the-commonwealth-released/  Diocesan Director of Music Andrew Wright plans to provide advice and guidance to parishes and is encouraging them to take part within ecumenical and community groups.
Country Women Countrywide have devised a special tart made from produce from each of the four countries of the United Kingdom, to be served either hot or cold at the individual beacon or singing locations – or at subsequent 'Big Lunches' later in the weekend. The recipe uses cheddar cheese from England, potatoes from Northern Ireland, smoked salmon from  Scotland, and leek from Wales.
Ahead of that date, community and voluntary organisations can get involved in developing creative and cultural activities through grants from the Essex Community Foundation, which, along with the community foundations network across the UK, will be distributing  the £5m 'Arts Council England Let's Create Jubilee Fund' .
Another arts-based learning project is linking schools around the world through the study of rivers. The environmentally themed artworks created through 'River of Hope' will be displayed on an online gallery, with 200 chosen to be used on flags in The Queen's Platinum Jubilee Pageant.