Bishop Alan has written to parishes asking for their support of the Ukrainian Emergency Winter Appeal.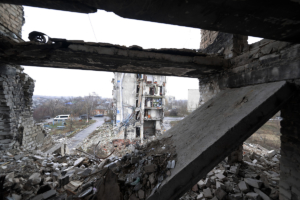 Ukrainians remain resilient despite the circumstances of the war, but they are in the throes of a harsh winter.  For that reason a new Emergency Winter Appeal has been launched to provide food packages for the most vulnerable on the frontlines and in recently liberated regions in East and South Ukraine which is suffering from a severe humanitarian crisis.
The cost of one food parcel, providing enough food for two people for a week costs approximately £16.  Each package contains the basics (grains, flour, pasta, meat and fish preserves, oil, canned vegetables, sugar, tea coffee, biscuits, etc.)
It is hoped that £160,00 can be raised allow the supply of 10,000 food parcels to those most in need and I ask that you and your parishioners will consider supporting this Emergency Winter Appeal.
Funds can be remitted to:
Account Name: Ukrainian Catholic Church Central Fund
Account Number: 20927317
Sort Code: 20-92-60
Or by cheques made payable to Ukrainian Catholic Church referencing Winter Appeal in both cases.  The address for cheques is Ukrainian Catholic Church in Great Britain, 22 Binney Street, London, W1K 5BQ.