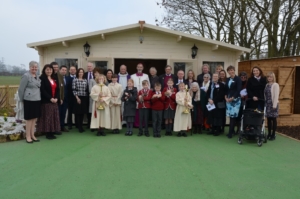 On Friday 11 March, the Bishop of Brentwood, The Rt Revd Alan Williams sm, visited New Hall Preparatory School, in Chelmsford, to bless its brand new chapel.
The St Francis Chapel has been built in the beautiful school grounds to provide a place of worship for children, parents and staff. It complements the existing, grand Chapel within the former Beaulieu Palace, which is used on a daily basis, including at weekends for parishioners.
The new chapel was designed to work for the younger school pupils and sits within the newly created St Francis Garden. It is named after Saint Francis of Assisi, founder of the Franciscan Order, who is the patron saint for ecologists – a title honouring his love for animals and nature.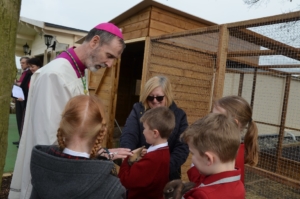 The garden is home to four new rabbits who also received a blessing on Friday. They will soon be joined by the chicks that have hatched in the Preparatory School and are currently being nurtured by the children.
New Hall School Chaplain, Fr Anthony McNeill OFM, made special trips to Assisi to source the beautiful Franciscan icons and handmade olive wood lectern and altar.
New Hall is ranked by English Heritage in the top 2% of heritage buildings in the country. The estate was formerly owned by Sir Thomas Boleyn, father of Anne Boleyn; King Henry VIII acquired it in 1517 and built the first of his great palaces, Beaulieu, on which Hampton Court was modelled.
New Hall School is the oldest Catholic school in England and was run by the Canonesses of the Holy Sepulchre until the early years of this century. Following the establishment of its new charitable status as New Hall School Trust in 2005, the former convent school opened its doors to boys.