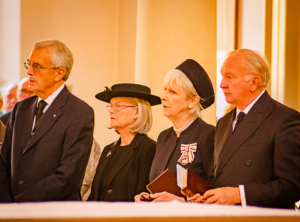 Bishop Alan Williams sm celebrated a Requiem Mass for Her Late Majesty Queen Elizabeth II on Sunday 26 September at Brentwood Cathedral.
The Mass was attended by the Lord Lieutenant of Essex, Mrs Jennifer Tolhurst, and her husband Philip and the High Sheriff, Nicholas Alston, and his wife.
The Mass began with 'I vow to thee my country' by Sir Cecil Spring-Rice and ended with the National Anthem and 'Jerusalem' by William Blake. The Choir sang Fauré's 'Libera me' and 'In Paradisum': "May the Angels lead you into paradise; may the martyrs receive you and lead  you into the holy city of Jerusalem."
Bishop Alan talked about the shock everyone had felt at the Queen's death and recalled that he had been walking into the Cathedral when he heard the news. "I imagine everyone will remember where they were at that moment," he said.
Readings were given by the High Sheriff and HM Lord-Lieutenant Jennifer Tolhurst before the recently ordained Deacon Nicholas Holmes sang the Gospel.
In his homily, Bishop Alan talked about the readings from Amos (6:1,4-7) and  Luke (16:19-31) which both focused on men of power and influence. "Amos, writing 800 years BC was scandalised by what he saw – how men of power wielded authority, looking just to themselves, not to God or man. In Luke, 800 years later, we hear about Lazarus and the rich man." The latter cares nothing for the suffering of Lazarus, he said. "He is focused on self, not looking to God or man."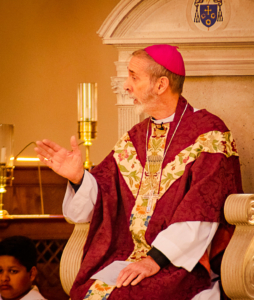 The Bishop commented that he would never have imagined that in this 21st century we would be talking about war in Europe or a man who wields power so selfishly in a similar way, with no reference to God or suffering people.
St Paul, in contrast, he said, talks about how the people of God should work in this life, 'to be saintly and religious, filled with faith and love, patient and gentle'.  "An important word is 'witness': As Jesus witnessed to God, we should witness to Christ through these things."
"All of that is the human talent – to notice other people and go beyond ourselves."
The Late Queen had the "patience, gentleness, faith, love, sanctity, good humour, kindness of a 'disciple' or learner of Christ and bore witness to these things", he said. "We give thanks for her presence and example."
He concluded: "All human beings before God are aware of the need for grace and he need for God's love and mercy. We present our Queen to God. Eternal rest grant unto her, O Lord."
Pictures by Ian Mulkerrins