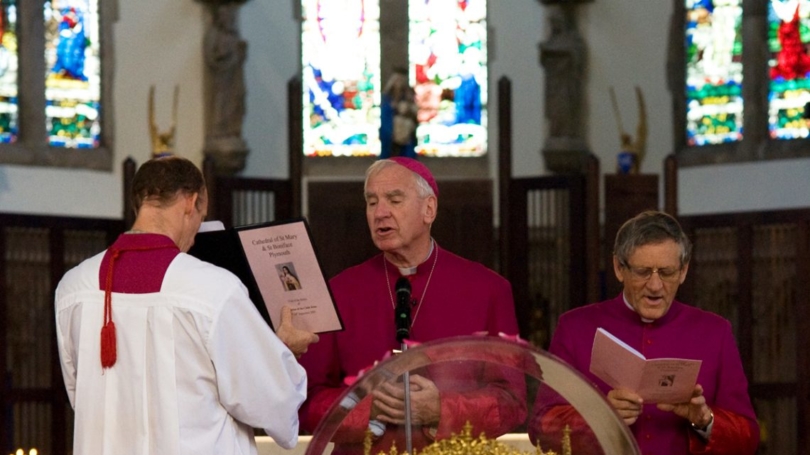 Please pray for the repose of the soul of Bishop Christopher Budd (centre above), Bishop Emeritus of the Diocese of Plymouth, who died peacefully at home in Lyme Regis on Saturday 1 April.
Hugh Christopher Budd (known as Christopher) was born in Romford on 27 May 1937. He was baptised and raised in St Joseph's Parish, Upminster, and educated at St Mary's Primary School, Hornchurch, and the Salesian College, Chertsey. He was accepted as a junior student for the Diocese of Brentwood by Bishop Beck in 1953 and entered Cotton College, Staffordshire. Thereafter he went to St Thomas' Seminary, Grove Park, Warwick, and in 1956 to the Venerable English College, Rome, from where he studied at the Gregorian University, gaining his Licences in Philosophy and Theology.
On 8 July 1962 he was ordained to the priesthood by Cardinal Heard at Palazzola. After ordination he remained in Rome for further studies, gaining a Doctorate of Theology from the Angelicum in 1965. He then served as Tutor in Theology at the Venerable English College (1965-1971), Lecturer in Theology at Newman College, Birmingham (1971-1976), and Head of Training for the Catholic Marriage Advisory Council (1976-1979). He was appointed as Rector of St John's Seminary, Wonersh, in 1979.
At the beginning of November 1985 he took up an appointment as Administrator of Brentwood Cathedral, the first time he had served in a permanent capacity within the Diocese of Brentwood. However, very shortly afterwards, on 19 November 1985, he was appointed as Bishop of Plymouth. He left Brentwood after Christmas 1985 and received episcopal ordination from his predecessor, Bishop Restieaux, at Plymouth Cathedral on 15 January 1986 (the principal co-consecrators being Archbishop Bowen of Southwark and Bishop Thomas McMahon of Brentwood). He celebrated his episcopal Silver Jubilee in 2011 and retired as Bishop of Plymouth on 9 November 2013. In retirement he has divided his time in pastoral ministry between the Isles of Scilly (winter) and Lyme Regis, Dorset (summer).
Bishop Budd's uncle, Father Gilbert Basil Pearson (1911-1947), was a priest of the Diocese of Brentwood, as is his first cousin, Father Basil Pearson.