A 'Joseph' by the manger, a 'Peter' to strengthen our faith
Bishop Nicholas Hudson, Auxiliary Bishop for the Diocese of Westminster, gave a moving homily in Westminster Cathedral on New Year's Eve, paying tribute to Pope Emeritus Benedict XVI: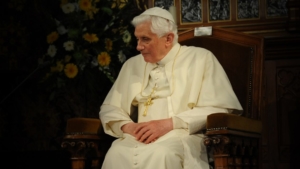 "May the Lord let his face shine on you, Holy Father." This is surely the prayer we raise to heaven this night for our dear Pope Emeritus. The very same blessing as we hear the Lord bestow on the sons of Israel, we ask him now to bestow on this faithful son of the new Israel, the Church: that the Lord uncover his face to Pope Benedict and bring him peace; deep peace and eternal happiness.
Seeing the face of Christ
For this is our faith; the faith we sing out with greater fervour than ever at this time of the year: that "at last our eyes shall see him". Now at last, Pope Benedict sees him. As the shepherds found Mary and Joseph, and the baby lying in the manger, so now this Joseph, Joseph Ratzinger, is welcomed into their midst. He came among us as a fellow-pilgrim, here in this very place, twelve years ago; not simply as a pilgrim but as Peter; and, as Peter, to strengthen us in our faith. He came among us as one who could say, with Paul, "Now we see as in a glass darkly but then we shall be seeing face to face." It is wonderful to think that now he sees face to face.
Ever the teacher, he urged us, when he was here, to lift our eyes to contemplate the crucifix which is the glory of this place. One can hear the delightful Bavarian lilt which adorned his telling us, "The visitor to this Cathedral cannot fail to be struck by the great crucifix dominating the nave."
It "serves as a reminder," he went on, to teach us, "that Christ, our eternal High Priest, daily unites our own sacrifices, our own sufferings, our own needs, hopes and aspirations, to the infinite merit of his sacrifice. Through him, with him and in him, we lift up our own bodies, as a holy sacrifice, holy and acceptable to God."
So it is our joy and our privilege, as we offer, this night, in this same place, the Most Holy Sacrifice of the Mass, to unite to the infinite merit of Christ's sacrifice on Calvary all the sacrifices, sufferings, needs, hopes and aspirations which marked Pope Benedict's life. And as he taught us, we do so, trusting that Christ will raise it up to make of it a holy sacrifice, holy and acceptable to God.
Treasury of teaching and preaching
We shall draw for generations to come from the treasury of his teaching and preaching. I had the privilege, some years back, of introducing some of my students from the Venerable English College in Rome to Pope Benedict. Like so many others, I found him to be the most gracious, most humble, most attentive of listeners. I observed with interest what each seminarian chose to tell him. I was struck by the young man who simply said, "Holy Father, thank you for all your writings." He spoke for millions; and the Pope was clearly touched. The meeting ended with our presenting the Holy Father with a book containing images of English and Welsh Martyrs down through the centuries. Showing him pictures of Martyrs from the Venerable English College, the Holy Father was again visibly moved. Touching the book with the palm of his hand, he told the seminarians, "You are their successors. You are their successors."
Papal Visit 2010
The faithfulness of the Catholics in England and Wales was something to which he referred as well when he came among us here. "Here in England, as we know, there were many who staunchly defended the Mass," he said, "often at great cost, giving rise to that devotion to the Most Holy Eucharist which has been a hallmark of Catholicism in these lands." He reminded all gathered in Westminster Hall of the supreme sacrifice offered up by St Thomas More after his trial in that place. And again, in Cofton Park, he prefaced his comments about the witness of the about-to-be-beatified Cardinal Newman by saying, "England has a long tradition of martyr saints, whose courageous witness has sustained and inspired the Catholic community here for centuries. Yet it is right and fitting that we should recognise today the holiness of a confessor, a son of this nation, who, though not called to shed his blood for the Lord, nevertheless bore eloquent witness to him… He is worthy to take his place in a long line of saints and scholars from these islands, St Bede, St Hilda, St Aelred, to name but a few." He knew who we were; where we had come from; and wanted us to know it – often.
I find it deeply poignant to recall – Pope Benedict's own long life now finally having run its course – how in Cofton he reminded us that Newman said, "our divine Master has assigned a specific task to each one of us, a 'definite service', committed uniquely to every single person." Pope Benedict's was indeed a life of definite and unique service: son, brother, priest, theologian, teacher, bishop, Prefect of the Congregation for the Doctrine of the Faith, successor of St Peter, ending with a decade of accompanying the Church, most especially his own successor, Pope Francis, in deep prayer, contemplation and intercession.
You will not be alone when you arrive
Now, as he prepares to come before the Lord, I trust he will have been encouraged and strengthened by his own conviction, some years ago, when speaking in 1978 to priests who were celebrating their Golden Jubilee of Ordination. Because he sought to reassure them: "When, some day," he told them, "you knock at the door of heaven, you need not be afraid." For, "as pastors you will have accompanied (diverse) people… in their hours of joy and their hours of grief and suffering. You (will) have helped people to live and to die. So you have many friends (both) on this side of the threshold and beyond it. (And so) you will not be alone when you arrive." "You will not be alone when you arrive."1
Newman's 'Dream'
I trust he also derived consolation from his own contemplation of St John Henry Newman's Dream of Gerontius to which he made enthusiastic reference at the climax of his Beatification homily. It is deeply moving to think Pope Benedict now knows what it is like to realise that it is indeed really happening for him what Cardinal Newman imagines in his Dream of Gerontius will be for each of us – at the moment of death to be borne upwards by your guardian angel, to see God and, in an instant, to know your sin and the need to atone for it; and so be borne away to purgatory, there to prepare your soul until your angel comes to take you back again – with the promise, the sweet promise, that meanwhile Masses on earth and prayers in heaven will help you – as we pray this Mass, the Holy Sacrifice of the Mass, will indeed help and console and encourage this our dear departed brother Pope Emeritus Benedict XVI this night.
1 Joseph Ratzinger, Benedict XVI, Teaching and Learning the Love of God, San Francisco 2017, 348-9