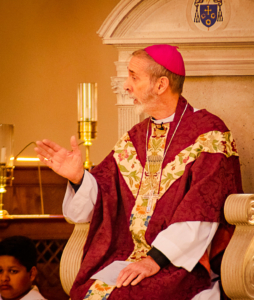 Bishop Alan Williams sm has written to parishes to warmly invite young people in their teens to attend a Youth Mass at 6.30pm on Sunday 16 October in the presence of the relics of St Bernadette. He says: "The Mass is being offered for the young people of the Diocese. Many parish secondary schools are bringing groups to the Mass, and the Brentwood Catholic Youth Service are also anticipating good numbers from those who travelled to Lourdes in July, and from previous years." The music at the Mass is being arranged by the BCYS and Cathedral musicians.
The Bishop said: "St Bernadette was a teenager when Our Lady appeared to her, and so she is a powerful saint for the young; this is deepened by the hardships she faced in her life, which also resonate deeply for many young people struggling with illness, or struggling for their voices to be heard. After the years of pandemic, when large gatherings were not possible, this is a significant moment for our young people to come together in prayer, in the presence of the relics of an inspirational saint."
Fr Dominic Howarth will preach at the Mass.