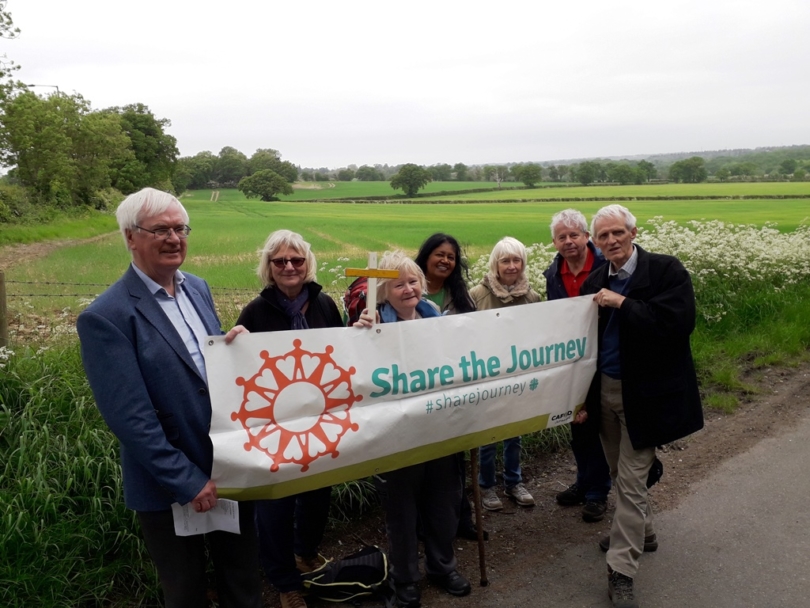 Parishioners from the Brentwood Diocese are joining thousands of others to help complete a 24,900-mile walk around the world in solidarity with refugees.
On 15 May, a group of walkers embarked on a three-week journey to walk over 150 miles around the London loop as part of CAFOD's Share the Journey campaign.
Ann Milner, who organised the walk and is from the parish of Our Lady Immaculate and St Andrew in Hitchin, said: "As a contribution to CAFOD's campaign, this will be a pilgrimage around the London Outer Orbital Path, known as the LOOP, consisting of a series of prayerful day walks taking place between May and June 2018."
The first day's walk began at Elstree and finished 11 miles later in Cockfosters.
Laura Ouseley, a Barnet resident who is also CAFOD's World News Officer, completed the walk while 37 weeks pregnant. She shared her experience of meeting pregnant women and mothers in Greece, Jordan and Lebanon who had fled Syria, Afghanistan and Iraq.
Laura said: "I walked more than 11 miles with CAFOD in support of all the pregnant women around the world who have been forced from their homes because of conflict, persecution or disaster, and who have to walk for miles in search of safety for themselves and their families."
"For thousands of women, having to flee their homes and walk for miles is not a choice. I am lucky that I could choose how far I wanted to walk and knew that I had a warm home to go back to in the evening. But I have met pregnant women around the world who aren't as lucky.
"In Jordan I met a mother who was eight months pregnant – her family were being helped by CAFOD to pay rent so they could keep a roof over their heads and weren't forced to leave their home. The support we were able to provide gave them much-needed security at an important time as they welcomed a child into the world."
The second day Ann was joined by many of the local CAFOD office volunteers as well as representatives from Parishes in Enfield, Edmonton and Barnet who walked with her from Cockfosters 9.5 miles to Enfield Lock. "We were welcomed along the walk by various Christian Churches and their communities: Christ Church Cockfosters, COE, in Cockfosters, St John the Baptist, COE, in Clay Hill and St Peter and Paul COE in Enfield Lock."
On Thursday after Mass at St Peter and Paul's, Ann headed off with her companions through the Lea Valley into Chingford and Chigwell in the Brentwood Diocese. Receiving another warm welcome from Father Francis Coveney along the way at Our Lady of Grace and St Teresa of Avila, Chingford (above). The church came into being thanks to a substantial donation from a Belgian refugee, Miss Claire Coemans, who fled Belgium with her professor father during the First World War.
The walk will continue through the Brentwood Diocese on Friday 25th along the following routes:
25 May Chigwell to Havering-atte-Bower (6 miles)
25 May Havering-atte-Bower to Harold Wood (4.3 miles)
26 May Harold Wood to Upminster Bridge (4 miles)
27 May Upminster Bridge to Rainham (4 miles)
27 May Rainham to Purfleet (5 miles)
Groups across England and Wales are urging Britain to play a leading role in the UN negotiations in September. This will see world leaders meet to reach two new agreements on protecting refugees and migrants. CAFOD has launched a petition to the Prime Minister to ensure the UK takes a prominent lead at the assembly.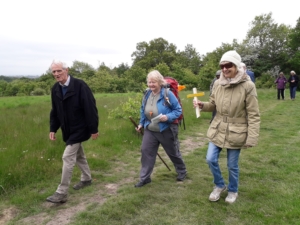 Tony Sheen, CAFOD's representative in the Westminster Diocese, who joined the walk, said: "It was lovely to discover how much beautiful countryside there is around London and to enjoy walking it with other CAFOD volunteers. It was also powerful and meaningful to reflect on plight of refugees and the journeys they have to make every day.   I highly recommend taking part in the CAFOD Share the Journey walk of the beautiful London Loop over the next few weeks."
If you would like to take part in the walk, contact CAFOD's local volunteer centre in Brentwood on 01277 218730 [email protected]
or email Ann on  [email protected]