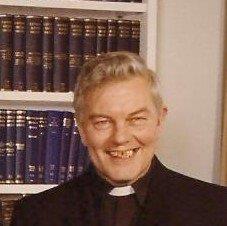 Canon John Duckett, one of the longest-serving priests in the Diocese, died last weekend in the nursing home at Bishop's Stortford where he was being cared for.
Fr Stewart Foster, our Diocesan Archivist, writes:
CANON JOHN DUCKETT (1928-2020)
Canon John Duckett was born in Preston, Lancashire, in 1928. His family boasted two of the English Martyrs (Blessed John Duckett, a priest, after whom he was named, and Blessed James Duckett, a bookseller). Indeed, with his death today a chain is broken in that there has been a Duckett among the English Catholic secular clergy for several centuries. Canon John Duckett had an older brother, Father George Duckett (1919-2000).
When he was a young child John Duckett's family moved to Chelmsford, Essex – that was why John had a southern accent but his brother a Lancashire accent – and it was here in Chelmsford, at Our Lady Immaculate Primary School, that he began his education, moving later to St Joseph's College, Ipswich.
In 1941 he was accepted as a junior student for the Diocese of Brentwood by Bishop Doubleday (2nd Bishop of Brentwood, 1920-1951). At his death Canon Duckett was the last Brentwood priest to have been accepted from the diocese by Bishop Doubleday. He was sent to Cotton College, Staffordshire, where he remained during the Second World War: the boys were, according to John, as part of the spartan wartime diet, fed broccoli from the college farm almost every day and so he never again ate it after leaving Cotton!  On one occasion he was severely reprimanded by the Headmaster for infringing the college rules (he was caught smoking) and back in Chelmsford Bishop Doubleday, while visiting the parish, hauled him over the coals, threatening to dismiss him from the seminary. Thankfully, this did not happen.
Immediately after the Second World War John Duckett was called up for National Service in the Royal Army Service Corps. After initial training he was posted to Germany and took part in the Berlin Airlift in 1948, part of the Western Allies' attempt to supply the citizens of West Berlin after the Soviet authorities closed the overland route to the city across East Germany. He always said that life in the army taught him more than his subsequent studies in the seminary.
John Duckett studied for the priesthood at St Thomas' Seminary, Grove Park, Warwick, and at St Mary's College, Oscott. He was ordained to the priesthood by Bishop George Andrew Beck (3rd Bishop of Brentwood, 1951-1955) at Our Lady Immaculate, Chelmsford, on 31 July 1955. As an assistant priest he served at Our Lady & St Anne Line, Dunmow (1955-1956), SS Peter & Paul, Ilford (1956-1962) and St James the Less & St Helen, Colchester (1963-1965, where he was a fellow curate with the future Bishop Thomas McMahon).
As parish priest he served at St Cuthbert, Burnham-on-Crouch (1962-1963), St Thomas More, Debden (1965-1970), St Stephen/St Nicholas, Manor Park E12 (1970-1976), St Mary & St Ethelburga, Barking (1976-1985, where he built the present church), Our Lady Star of the Sea, Tilbury (1985-1987) and St Michael, East Ham E6 (1987-2001). Thereafter he went to Our Lady & St George, Walthamstow E17 (2001-2002) and St Antony of Padua, Forest Gate E7 (2002-2012), in both places serving in a semi-retired capacity but very much 'on the front line'. At Forest Gate he took charge of the baptism preparations and was responsible for convalidating many marriages.
In full retirement he acted as chaplain to the Little Company of Mary, Westcliff-on-Sea (2012-2017), before moving to Nazareth House, Southend-on-Sea (2017-2020). When Nazareth House closed in February 2020 he took up residence in a nursing home in Hertfordshire to be nearer to his family in North Essex. In 2017 he was appointed as an Honorary Canon of the Diocese of Brentwood in recognition of his outstanding priestly ministry, which had included membership of the Diocesan Finance Board and as a Consultor to the Bishop. However, John Duckett was above all a pastoral priest, a prodigious visitor of his parishioners, punctual in everything he did, uncomplicated in his spirituality, a very good preacher, down-to-earth in his manner and immensely kind (I write from personal knowledge, having lived with him for eight years).
He was also, for his sins and with long-suffering humour, an avid supporter of West Ham United and with his great friends, Frs John King and Denis Hall, made the regular pilgrimage to Upton Park for home matches. His death marks a milestone in the history of the Diocese of Brentwood. Please pray for his family, his priest-friends, and the very many former parishioners who will mourn his death. Ecce Sacerdos Magnus… Requiescat in Pace.