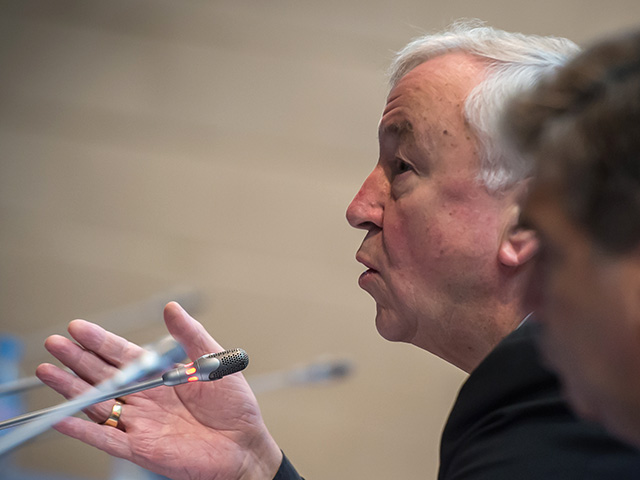 Cardinal Vincent Nichols has told delegates at a conference on prison chaplaincy that employers should exclude the tick box on initial job application forms requiring a person who has completed a prison sentence to disclose their conviction.
The Cardinal suggests that banning the tick box and allowing people to discuss their conviction at a later stage in the recruitment process would give them the chance to "put their past in context and show who they really are".
"Of course convictions have to be disclosed and where necessary DBS checks undertaken," he said. "But people should not be written off without a hearing for actions in the past which may no longer have a bearing on their future."
The Cardinal emphasised that prison leavers need  stable employment and that true rehabilitation means not defining people by their worst actions for the rest of their life:
"It is hard to envisage the crushing disappointment of someone who has worked hard to move away from crime and learn new skills, only to be rejected for job after job and never even given the opportunity to explain how he or she HAS changed since being convicted years before. That is not just devastating for the individual – it deprives employers of potentially excellent and able workers and denies society working taxpayers."
Whilst stressing that all necessary steps must be taken to ensure that safeguarding is paramount, Cardinal Nichols said that he would be looking at the Church's own recruitment processes:
"Over the coming year I look forward to discussions about how the Church can ban the box in our own employment practices, while taking all the necessary steps to ensure that safeguarding is never compromised. I personally appeal to all employers to take this step and give people a fair opportunity that will benefit our society… Dioceses too have such opportunities if they can create social enterprise programmes with employment possibilities."
In a wide-ranging speech, the Cardinal also discussed the acute need for prison reform and stressed that the Catholic Church is prepared to be an active partner in the process. He had this message for government:
"We are ready to work alongside and support you in transforming prisons from places of despair to places of redemption. But I also urge you to be brave and go further than any government before: Make this the turning point where prison policy is built upon giving people the support they need to make amends and play a positive role in our society.
"It is widely accepted that effective change in our prisons will also require tackling underlying factors. One of these is sentencing policy, which is inherently linked to the expanding and increasingly unmanageable prison population. This is a challenge but with courage and commitment it need not be an insurmountable one."
The Cardinal made it clear that individuals need to be prepared to accept punishment, make amends and work towards a better future, but he identified the important role Catholic parishes can play to help people get their lives back on track:
"Our parishes are particularly well placed to welcome people and help them get back on their feet. I hope and pray that this Year of Mercy will be a rallying call for Catholics actively to reach out a hand of friendship and offer practical assistance to those leaving prison. For even the smallest actions can give someone hope and help them to stay on the right path."
The conference was hosted at St Mary's University, Twickenham on Tuesday, 6 September 2016.