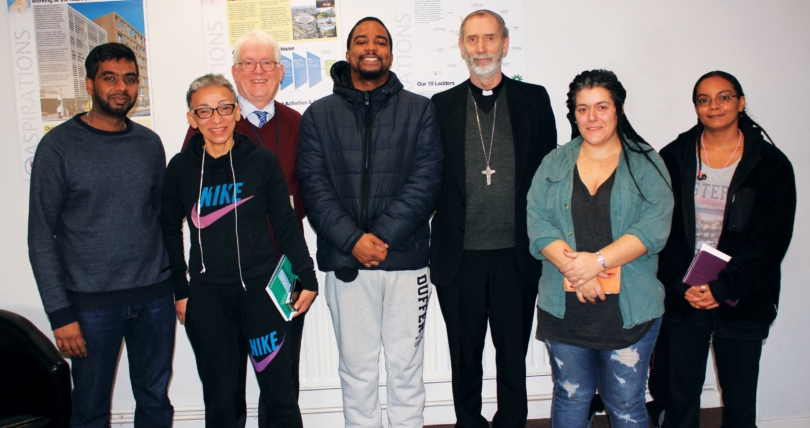 The Rt Rev Alan Williams, the Bishop of Brentwood, visited homeless charity Caritas Anchor House in Newham recently. During his visit, Bishop Alan, who is President of Caritas Anchor House, met with residents who shared their experiences of homelessness and how Caritas Anchor House was supporting them to rebuild their lives.
Every year, Caritas Anchor House offers a home and support to up to 250 homeless people. By providing education, guidance and personal rehabilitation, it aims to empower all of its residents to identify their strengths, achieve their best, grow in confidence and lead independent, self-fulfilling lives.
One of the residents who met Bishop Alan was Paula. After a period of homelessness, Paula joined Caritas Anchor House four months ago feeling isolated and having lost her self-esteem. Now, she is building friendships and receiving support for her mental health needs. She said: "I can count on my 'lifestyle architect' if things get tough. Before I came to live at Caritas Anchor House, I was lost. I had lost my self-esteem, my purpose and my dreams. But since I've been here things are changing for me. I've made friends, and I'm always greeted with a smile."
Bishop Alan Williams said: "Caritas Anchor House is a real salvation, a real game-changer for the people it supports; it changes their lives. One resident said to me 'I wouldn't be alive but for Caritas Anchor House'."
"I think that dramatic changes are possible and are made very concrete here. Reading about Caritas Anchor House and knowing about them is one thing, but actually seeing their work in person is very moving. It is a great privilege to see it and be part of it."

Caritas Anchor House is based in the Catholic Diocese of Brentwood. In the year to March 2016, it offered a home and help to 213 people, supported 66 into independent living and 38 into employment.