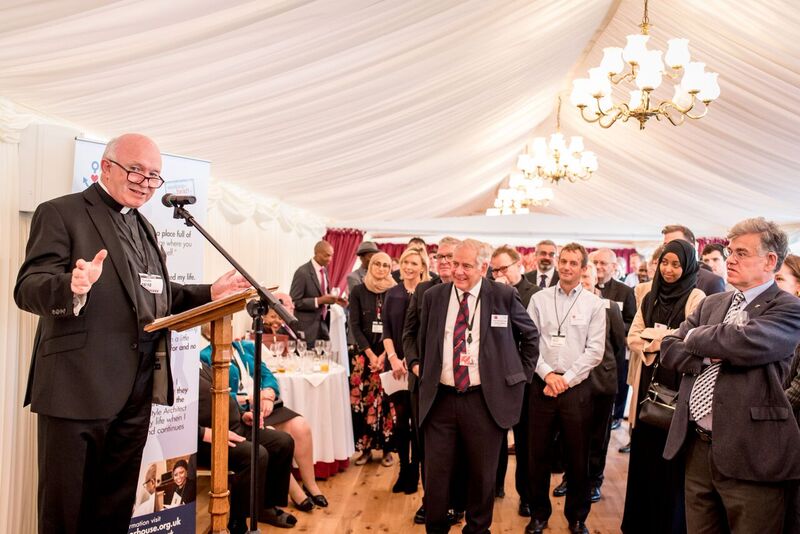 Monsignor John Armitage, Rector of the Shrine of our Lady of Walsingham and previously vicar general of this diocese, has drawn attention to a Catholic charity's work to provide a sustainable path out of homelessness.
At a reception to mark World Homeless Day, guests were encouraged to tackle the global issue of homelessness on a local level by supporting charities working to make a difference. Held in the House of Lords, it was organised by homeless charity Caritas Anchor House and hosted by Field Marshal Lord Guthrie.
Monsignor John Armitage, the charity's Chair of Trustees, said: "Homelessness is a consequence of many difficult factors in a person's life. Caritas Anchor House acts as a bridge – a safe environment where people can find the love and support to rebuild their lives. The stories of our residents when they arrive are sometimes hard to hear, but harder for our residents who are living with such burdens.
"When they engage with the love, care and professionalism of our staff, and the mutual support and encouragement of other residents who are already a long way on their journey, those stories can and do change. And those inspiring stories are what Caritas Anchor House is all about."
Lord Bird, founder of The Big Issue, commended Caritas Anchor House for addressing the needs of the whole-person, including the reasons they became homeless in the first place. He said: "Homelessness is not simply because you haven't got a home; it's often because our problems become compounded. Caritas Anchor House is a support system to help people address the reasons why they find themselves homeless, and enables them to move on, have a fuller life, and contribute to society rather than be on the edge looking in. I can see their ambition and desire to change their lives."
Speaking of his own experiences of homelessness and what he has since gone on to achieve, Lord Bird said: "I entered the House of Lords in order to help dismantle poverty, in order to prevent poverty, but what we need in the meanwhile is organisations like Caritas Anchor House who do a really sterling job of helping people to help themselves."
Each year, Caritas Anchor House offers a home and support to over 250 homeless people. By providing education, guidance and personal rehabilitation they help their residents to break the cycle of homelessness and rebuild their lives. Last year alone, Caritas Anchor House provided a home and support to 254 homeless people, helped 89 into independent living and 38 into employment.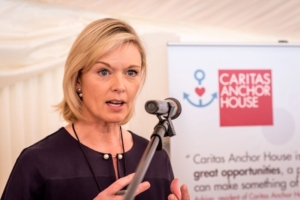 The charity, based in the London Borough of Newham was commended by ITV newsreader Julie Etchingham who spoke passionately at the reception about how Caritas Anchor House raises the aspirations of people who have faced complexities that many of us can only imagine.
"I have been fortunate to see how Caritas Anchor House gets its results; how lives wrecked by the pressures of living on the streets have been picked up, dusted down, given treatment, love and guidance and a purpose – and have gone out into the world again, literally re-built.
"And the bottom line is: it works. Just like The Big Issue, what Caritas Anchor House offers is not just a hand out but a hand up. Caritas Anchor House helps 250 adults every year – whatever your background and walk of life, there is something that can be done and someone there who will help."
This message was echoed by Patrick, a previously homeless person now living at Caritas Anchor House. Having left his job as a floor layer to become a full-time carer for his mother with dementia, Patrick was devastated when she passed away in 2016.
"By then, I was suffering from depression and went into a mental health ward voluntarily to try to come to terms with my grief and mental health issues. I spent 12 days there during which time I got the news that, as my mother was no longer at the property, I was being evicted from the family home."
Patrick was referred to Caritas Anchor House, and since arriving in January 2017, he has received support from the charity's staff, been referred to a counsellor and encouraged to take part in training and volunteering opportunities.
"I started volunteering in the kitchen and it was then that I really started to get my confidence back on track. My main success is getting the Level 2 Food Hygiene and Safety in Catering certificate. That may sound trivial to many, but to me it was a huge achievement. I felt proud and still do, and that's down to Caritas Anchor House. So much so, that I now have a paid part-time job as a Weekend Cook – and it's a job I really love doing."
Patrick praised the support he has received in his time at Caritas Anchor House, and said: "I now have a very positive outlook for the future, and who knows, maybe a full time career in the catering business. This is all because of the support, belief and trust that Caritas Anchor House has shown me and continues to show me."
John, another resident living at Caritas Anchor House, recalled his time sleeping on the streets and said: "When you're homeless and do not have anyone to speak to, it makes you wish you didn't see the morning. But I feel every dark night there is a brighter day, and thanks to Caritas Anchor House I now see a brighter day."
The charity needs help to ensure that every person that walks through their doors has access to the best support possible, making the hope of an independent life a reality. For more information, or to make a contribution to turn a life around, please visit www.caritasanchorhouse.org.uk or call 020 7476 6062.
Pictures by mattbadenoch.com