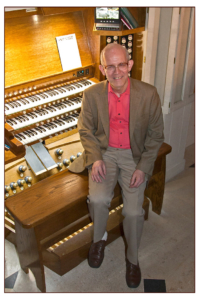 Brentwood Cathedral Organist Stephen King recently completed a 12 hour sponsored play-a-thon in support of the Cathedral Choir. The Choir is commissioning a new choral Mass (Missa Brevis) from the composer Diana Burrell, who has recently completed a major work for the BBC Symphony Orchestra. The Cathedral Choir will sing the new Missa Brevis in 2017, to mark the diocesan centenary.
Stephen started playing at 8pm on
Friday 8 April, and inclusive of three short breaks, continued until 8am on Saturday 9 April, although he admitted to feeling "a little tired" at 3.30am on the Saturday morning! By request, he began with Parry's Jerusalem, and ended with Widor's Toccata (which he played for two members of the Cathedral congregation whose wedding anniversary fell on the Saturday).
The play-a-thon has so far yielded over £1,700. Anyone wishing to support the Cathedral Choir may do so online at www.justgiving.com/Stephen-King19, and all donations are very gratefully received.