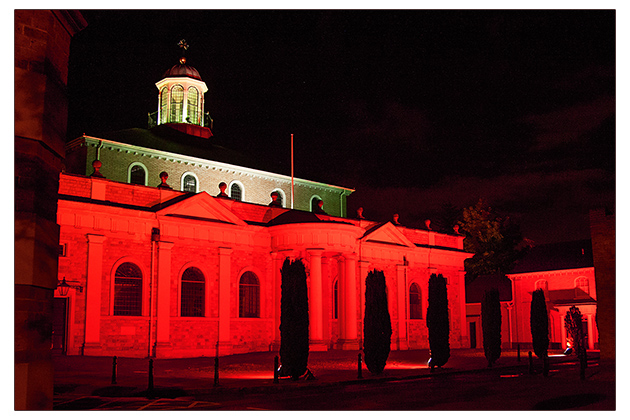 Brentwood Cathedral will be floodlit in red during the whole of November to highlight the plight of persecuted Christians in the Middle East, where they face almost complete extinction.
November is traditionally the month in which the church remembers the dead and by turning its classical facade red every night for the month the Cathedral hopes more people will become aware of the appalling suffering of Christians.
Fr Martin Boland, the Dean of Brentwood Cathedral, explained why it is important to focus on the persecution of Christians, especially in the Middle East: "At present, Christians suffer greater hostility across the world than any other religious group. A recent report suggests that 200 million Christians, or 10% of Christians worldwide, are socially disadvantaged, harassed or actively oppressed for their beliefs. This is deeply disturbing and the floodlighting of the Cathedral in red is to remind people of this.
"If the right to express religious beliefs freely is taken from people, then their humanity and dignity will be as well.
"In the Middle East, between a half and two-thirds of Christians have left the region or been killed in the past century. What was once a biblical heartland for Christians, is now a wasteland. Christianity is being wiped out in this region. After the 2003 invasion of Iraq, the Iraqi Christian community became vulnerable to persecution. This was highlighted by the 2006 beheading of a kidnapped Orthodox priest, Father Boulos Iskander, and the kidnapping of 17 further priests and two bishops between 2006 and 2010.
"It is time for governments and international bodies to highlight the human rights abuses faced by Christians in the Middle East and to respond to them. If they don't, then Christianity will be wiped out in this region in a systematic and violent way.
"In November, nobody passing Brentwood Cathedral at night will be able to turn a blind eye to it and nobody, believer or non-believer, Christian or non-Christian, should turn a blind eye to the persecution of Christians in the Middle East."
Fr Martin added: "On the first two weekends in November, candles will be available after Mass. Weather permitting, parishioners will be invited to place them outside the Cathedral on Sunday 20 November, the Feast of Christ the King, lighting up the darkness and showing our solidarity with our persecuted brothers and sisters in Christ. All profits from candle sales will go to Friends of the Holy Land, an organisation dedicated to supporting the Christian community in the Holy Land."
Meanwhile, charity Action for the Church in Need (ACN), says one in five countries has suffered religiously provoked attacks since 2014. It  is asking people to wear red on 23rd November, as Westminster Abbey and Westminster Cathedral also light up their iconic facades:
"Join with ACN to honour those who have suffered because of their religion, and stand in solidarity with millions of people, targeted for their beliefs and living in fear."
"This profound act of solidarity will be joined by other faith groups as a tribute to all who, in recent times, have suffered injustice and risk their lives for their faith. Make a stand against religious persecution and for peace and tolerance."