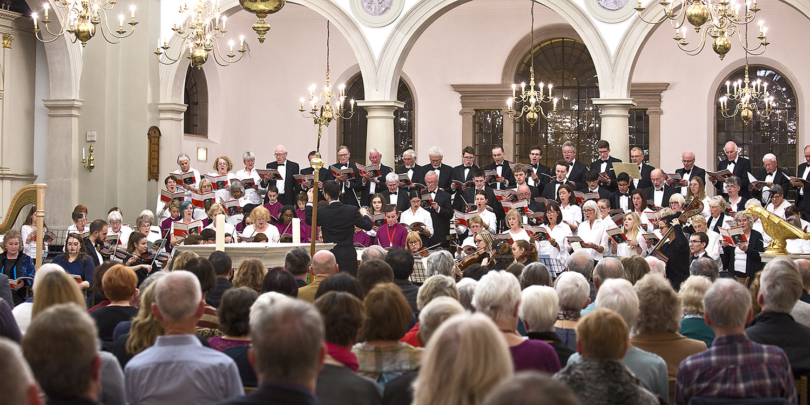 The centenary of the Diocese of Brentwood was celebrated in music at Brentwood Cathedral last week.
A specially formed choir came together to perform works by Vivaldi, Schubert and Vaughan Williams with orchestral contributions from Elgar and Vivaldi. The conducting duties were shared between the Diocesan Director of Music Andrew Wright and Jonathan Shrantz, the Director of Brentwood Choral Society which formed part of the superb choral forces. Representatives of parish choirs together with the Cathedral choirs boosted the choir to over 90 singers.
The programme opened with a lively performance of Vivaldi's Double Trumpet Concerto. Sam Lewis and Darren Moore performed with aplomb and were sensitively accompanied by the ELMS Chamber Orchestra, regular performers at Cathedral concerts, all skilfully marshalled under the baton of Andrew Wright.
Vivaldi – himself a Catholic priest – was also represented by his popular setting of the Gloria. The choir and orchestra were joined by soloists Julia Wilson-James and Chlöe Tehrane for an exhilarating performance. Conductor Jonathan Shrantz carefully blended the more reflective moments with the lively choral passages which brought out the best in the large choir.
He also took charge for Schubert's Mass in G in its full orchestral version. This powerful performance filled the Cathedral with sound, pausing for the gentle trio in the Benedictus for which tenor Michael Bradley joined Julia Wilson-James and Chlöe Treharne, before the choir brought the work to a hushed close with the words Dona nobis pacem.
English composers were represented in the programme in two works conducted by Andrew Wright.
Elgar was a Roman Catholic who rose to claim the crown as England's pre-eminent composer and his gentle, moving Sospiri for strings, organ and harp drew an intense and moving performance from the orchestra.
The evening finished with Vaughan Williams' Serenade to Music for which bass Joshua Chapman joined the other soloists, choir and full orchestra. Vaughan Williams had strong connections with Brentwood and his Serenade with its lyrical praise of the beauty of music was a fitting climax of the celebration of the Diocesan centenary in music.
The large and appreciative audience included special guests Mrs Jennifer Tolhurst, the new Lord Lieutenant of Essex, and her husband Philip who is chairman of the Brentwood Diocesan Cathedral and Choral Trust, Cllr Will Russell, the Mayor of Brentwood, and Monsignor Kevin Hale, the Vicar-General of the Diocese.
David Worsfold
More pictures by Graham Hillman here http://www.cathedral-brentwood.org/blog-2/centconc2017/