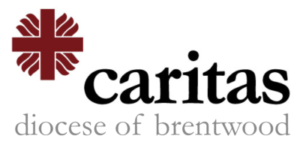 The Diocese of Brentwood is inviting anyone involved in supporting social justice and charitable projects across Essex and East London to come to an event at Brentwood Ursuline on 7 July.
Fr Dominic Howarth, who is organising the day with Director of Development Steven Webb, says: "It is very clear that, across the Diocese, there are thousands of volunteers supporting social justice and charitable projects – such as those which care for the homeless, support a food bank or work with refugees. Some are very local, some that cover part or all of the Diocese, and some with UK and international elements. It is magnificent work; it is often hidden; and it is absolutely part of the fabric and mission of our Church."
He and Steven Webb are working to set up Caritas Diocese of Brentwood as a way of drawing together and supporting this expertise. The project is a direct response to parish feedback given through the ongoing Diocesan Stewards of the Gospel renewal and restructuring process, says Fr Dominic.  "People have written about how our efforts for the poor and marginalised need to be more visible, and how they wish there was a chance to share good practice or network with others doing similar work. This is it! This is how we are responding precisely to those concerns and suggestions. Please come and be part of the conversation that will help shape the vision."
The plan is not that Caritas Diocese of Brentwood will exist as another layer of 'management' or with any centralising role, he says. "Rather, through sharing good practice and providing an opportunity to network, we will help successes to be celebrated and help match volunteers with opportunities in your group/organisation.  Being part of Caritas also links us to national developments, through CSAN (Caritas Social Action Network), which can then be more readily shared within the Diocese, and in your group/organisation."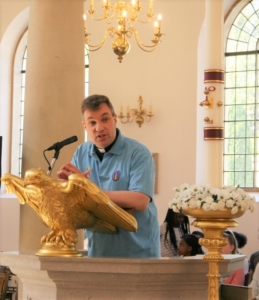 He says a key element of the work is the involvement of young adults. "In many parishes the social justice groups are run by older volunteers; at the same time, young people are often very inspired by social justice and charity, but do not know where to begin. I know of one young person who said of their parish Justice and Peace group, 'I would love to be part of this … but I am too young!'"
Fr Dominic is urging anyone who volunteers in any way to come to the event – and bring a younger person with them. "The day is particularly intended to help dialogue between the generations; therefore this invitation comes with the very strong encouragement, please, that you also bring someone of a different generation. This could be an excellent moment to ask your parish priest to help by linking those in their late teens, 20s and 30s with those of older generations."
He says the day at Brentwood Ursuline is specifically about helping the different generations to see what they have in common, as well as the things they approach in different ways. "It will undoubtedly show a shared passion for social justice and charity."
Danny Curtin, who has worked for CSAN and Missio, as well as for the Diocese of Westminster, will facilitate the day.  President of YCW (Young Christian Workers) for several years, he has worked with the Jimmy Mizen Foundation, and is currently CEO of Million Minutes, a charity designed to engage young people with social justice.
"By the end of the day, we hope that everyone who comes will have seen some new pathways for involving people across the generations, and that they will also have a good idea of the shape of Caritas Diocese of Brentwood, and their part in it," says Fr Dominic.
"All are welcome. We will provide refreshments, and ask participants to bring their own lunch. The day is free of charge, funded by a private grant we have received to help begin Caritas Diocese of Brentwood. To help us with logistics and refreshments, we do ask people to let us know they are coming; please email us, using the details below.
Caritas Diocese of Brentwood – involving your group/organisation, involving the young.
Brentwood Ursuline Convent High School, Saturday 7 July, 10.30am – 3.30pm (within 5 minutes' walk of Brentwood station, and very close to the M25, A12 and A127, with ample parking at the school).
Contact: [email protected] or [email protected]