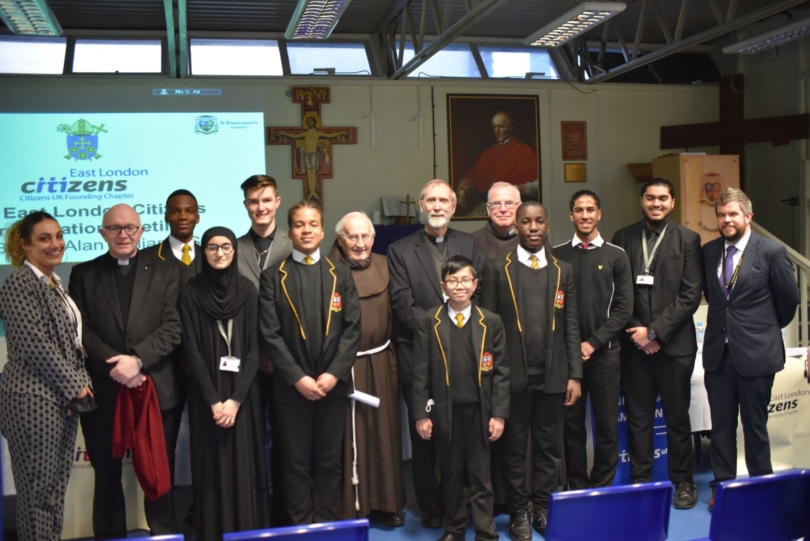 The Right Reverend Alan Williams sm, Bishop of Brentwood, joined a number of East London Citizens (TELCO) Catholic alliance members for a meeting of clergy, parishes, schools and other organisations last week. It was a historic meeting that resulted in a commitment to work more collaboratively in the future – in particular to answer "The Cry of the Poor" from Pope Francis' encyclical Laudato Si'.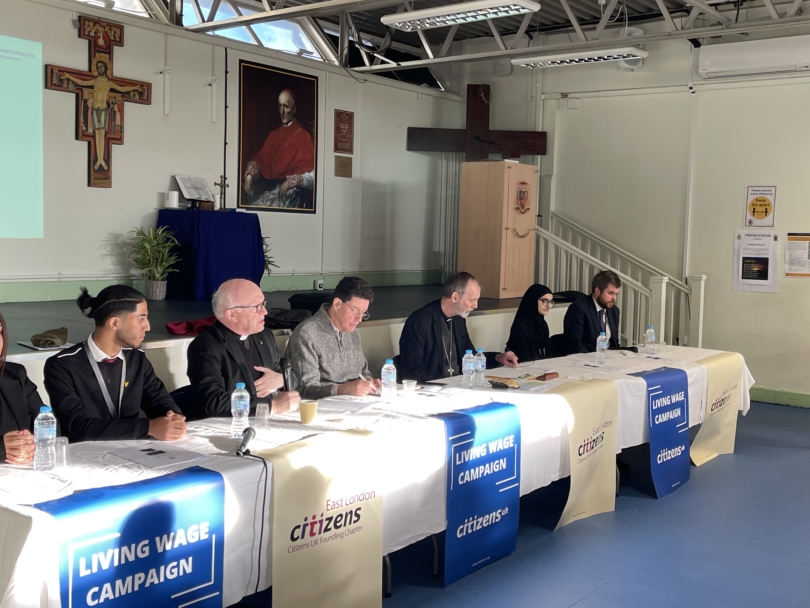 Monsignor John Armitage gave a historical overview of how East London has been at the heart of Catholic Social Teaching – linking back to the London Dockers' Strike of 1889 and Pope Leo XIII's encyclical Rerum Novarum. It was particularly apt that the meeting took place in Cardinal Manning Hall!
Parishes and students – including two groups from St Bonaventure's – shared their recent organising work. St Bon's has been working on the Living Wage Foundation campaign and a Youth Safety campaign.
Caroline Verdant from St Antony's gave a presentation on the new immigration project that has been launched in Newham in collaboration with Newham Citizens and St Helen's Catholic Primary School. Nathan Chan, music teacher at St Antony's, shared the work that the children and staff have been doing on the Living Wage Campaign to make a difference in their community.
In his reflection, Bishop Alan referred to the story of Blind Bartimaeus: "He calls out to Jesus and people tell him to be quiet. But Jesus hears him and says 'what do you want me to do for you?' It takes courage to do both." He applauded the courage shown by the groups from parishes and schools who believe that it is possible to make a difference. Quoting Saint Mother Teresa, he reflected on how important even small changes are and encouraged everyone to enter into Lent with a renewed commitment to prayer and to positive action.
St Bonaventure's Deputy Headteacher Andy Lewis co-chaired the meeting. He said: "There was such a positive feeling in the room – a mixture of excitement, determination and commitment. Already work is being planned between parishes and schools. It was fantastic to hear about the range and significance of work taking place – organising is effective – this is why we work with Citizens UK. We are so incredibly proud of our own students and everything they manage to 'win' in our local community – their voice is really heard as they answer 'the Cry of the Poor'."
Bishop Alan, who presented certificates of participation to each group, commented afterwards: "I am so impressed by what is being done, particularly by young people, in the name of Christ, the Church and the Diocese."