Calais Light head Mary Stretch is appealing for volunteers in north-east Essex to support refugees struggling to start their new life in the UK. "We are setting up a befriending arm and have partnered with Refugee and Migrant Action (RAMA) who have 3,500 refugee clients in Essex. Those refugees need help with their second journey – establishing new lives successfully in the UK."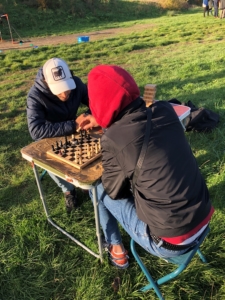 So far, Calais Light has eight official volunteers currently helping refugees in two bridging hotels in Colchester and Clacton. They befriend refugees through a number of activities including gardening projects, social integration and English lessons – but the charity needs many more volunteers. Mary is passionate about the need for language. "Many refugees are wasting their lives in detention or hotels, not learning the single biggest thing they need. When they are allowed to work, they can't because they don't speak English. Every refugee in Sweden immediately starts language lessons. That is not what happens here – but it is vital for integration and social harmony."
Calais Light's volunteers are ordinary people who want to help refugees to take their place in society, to show them what English people are like and that they are welcome, says Mary. "These refugees have come for social integration not to set up ghettos. This is a forward-thinking, long-term early intervention by Calais Light. Because we know what refugees go through, we want to broaden the focus to social integration in the UK."
From its initial work in north-east Essex, the charity is hoping to set up 'befriending hubs' in areas where it has partners who can give it access to refugees. "Ultimately we hope to expand into London, Kent and Surrey but for the time being we want volunteers who are local to Colchester and Clacton."
Mary is looking for people with 'a heart for refugees', who can give a regular commitment (although this doesn't have to be every week). They will get induction and training, she says, as well as a DBS.
You can email [email protected] or get more information through the Calais Light website. Says Mary: "If you can't volunteer, why not donate instead?"
The charity is a finalist in the BBC's 'Make a Difference Together Awards', with the ceremony taking place this month.