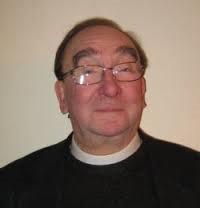 Fr James's body will be received into the church at Epping at 4.30pm on Monday 18th July and Mass will be celebrated at 7.30 pm. Bishop Thomas will preside.
On Tuesday 19th July Fr James will be taken from the church at Epping to the Cathedral for a Requiem Mass which will be celebrated at 11.30 am by Bishop Alan, followed by burial in the family grave at Romford.
Refreshments will be available after the Mass in the Cathedral Halls. Everyone is invited.
Father James Hawes was born in Hornchurch on 12 March 1939 and was educated at St Mary's Primary School, Hornchurch (1944-1950), and St Ignatius College, Stamford Hill (1950-1957).
In 1957 Fr James was accepted by Bishop Wall as a student for the Diocese of Brentwood and was sent to Grove Park, Warwickshire, a pre-seminary for Oscott College. In 1958 he entered the College of Propaganda Fide, Rome.
Fr James was ordained to the Priesthood on 19 December 1964 at Propaganda Fide by Gregory Peter, Cardinal Agagianian and was appointed as assistant priest at Colchester under Canon Bernard Manning.  In 1969 he moved to St Mary & St Ethelburga, Barking.
In 1972 Father James was appointed as a full-time member Brentwood Religious Education Service (BRES) Team, residing at St Bernard's Convent, Westcliff-on-Sea, where he also acted as Chaplain to the Bernardine Nuns.
In 1979 he was appointed as parish priest of Clacton-on-Sea and in 1981 parish priest of Upminster.  In 1991 he was appointed as parish priest of Colchester. His final appointment was at Epping (2001-2016), from where he had been due to retire to take up residence at Leigh-on-Sea.
Other offices he held were as Literary Editor of the Brentwood Diocesan Directory (1968-1972); Dean of Havering, Colchester and West Essex; Chairman of the Council of Priests;  Consultative Member of ICEL (1986-89); Consultor; Diocesan Exorcist; Team Member of Ministry to Priests; Episcopal Vicar for Ecumenism; Chairman of Diocesan Ecumenical Commission and Member of Diocesan Service Team – Catholic Charismatic Renewal.
Bishop Alan says: "Our Diocese was blest to have had the exemplary pastoral ministry of Fr James for the past 52 years.  Please do remember him in your prayers and Masses."