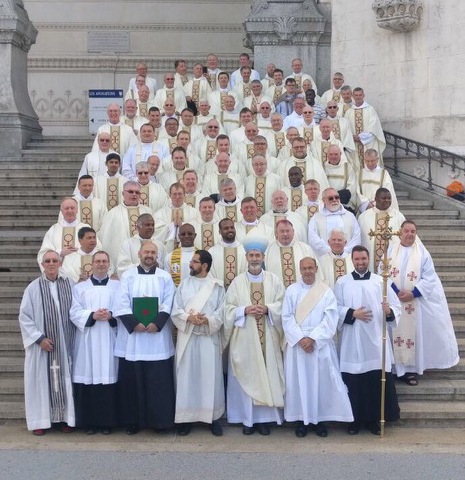 In a month which sees Bishop Alan come together with clergy for the celebration of priesthood at Chigwell Convent, a tranche of ordinations will begin. Bro Philip Thomas CSJ will be ordained to the priesthood at 11.30 a.m. on Saturday 23 June at St Antony's, Forest Gate and Rev Rick Fernandez will become a priest at 11.30 a.m. on Saturday 30 June at Holy Family, Dagenham.  Simon Conrad will be ordained to the permanent diaconate at 11.30 a.m. on Saturday 16 June in the Cathedral. The following month will see the ordination to the diaconate of Gary Dench during the Mass to celebrate the 90th Anniversary of the building of Wanstead church. The Mass will take place at 7.30 p.m. on Thursday 19 July. In September, Alan Mair will be ordained for the permanent diaconate at 11.30 a.m. on Saturday 15 September at St Thomas of Canterbury, Woodford Green.
The Bishop has also just accepted a new student for formation for the priesthood.  Matúš Meleg will begin his studies at Allen Hall in September.  Two new students have also been accepted for formation to the permanent diaconate.  Liam Rand and Anthony Rowley will commence their studies next month at Wonersh.
Meanwhile, the Bishop is offering his warmest congratulations to those priests who will be celebrating jubilees this year – Fr Brian McWilliams will be celebrating his Diamond Jubilee (60th); Mgr Bill Nix, Frs John Taylor, and Isidore Faloona ofm will be celebrating 50 years of priesthood and Frs  Stephen Myers and Bernard Soley will be celebrating 25 years of priesthood.