Young people from 68 schools across the Diocese of Brentwood received awards for their acts of good citizenship last week. Nominated by their school communities, their feats ranged from kindness to others and service in their parish, to fund-raising for charities, to work with citizens group TELCO. The awards, which have been an annual event since 2002, were inspired by Lord David Alton, a former pupil of the diocese and Professor of Citizenship at Liverpool John Moores University at the time.
Sr Jude Groden RSM, from the Diocesan Education Department, has been closely involved in the organisation of the event for many years. She said: "In a time when many young people are being criticised for a selfish attitude to life, these awards present compelling evidence to the contrary."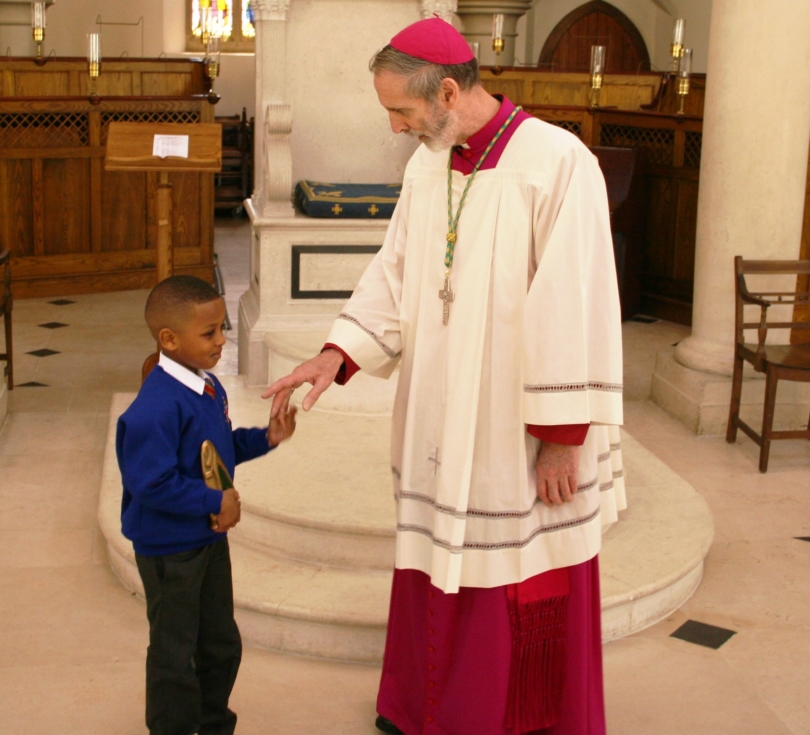 At Our Lady Immaculate Primary School in Chelmsford, for example, Jessica, Oliver and Jeneta are founder members of a Mini Vinnies group (St Vincent de Paul Society for juniors) which tries to connect Catholic beliefs and values with service activities and community issues to make faith real, meaningful and relevant. During Lent, they organised a Bring and Buy sale for CAFOD and at Christmas time created cards for the local residents of Chelmer Lodge retirement home. Other active members of Mini Vinnie groups were also nominated, including Celine Paguiligan at Harlow's St Alban's Primary, Martha Abraham at St Helen's Canning Town – who has raised awareness of, and money for, the homeless – and  Ayomide Akinleye, Joshua Antwi, Zuzanna Golebiewska and Micaela Orduna from St Francis Primary School, Stratford, who are also members of the junior leadership team and sing in the choir.
Three members of New Hall School were nominated to share the award. JonJo McMahon for serving diligently at Mass, training a large altar serving team and assisting in co-ordinating Confirmations and Masses in his role as Chaplaincy MC. And chaplaincy prefects Liam Rayner and Jenny Nwanemough who are part of a project to visit younger tutor groups each week offering support, help and a listening ear.  They have raised large amounts of money for many charities including BCCS, 'For Jimmy' and the mental health charity SANE.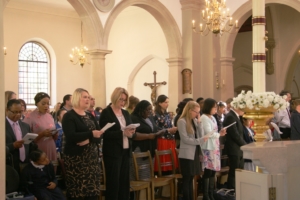 Other fundraisers included Loretta Charles-Creegan from Palmer Catholic Academy, who helped raise £1,600 for Richard House Hospice and also delivers topical assemblies to her contemporaries. She shared the nomination with Lucas Negroni. A keen sportsman, Lucas supports younger students in building their confidence, using sport as a tool.
At St Mary's Hare Park Preparatory School, Gidea Park, Francesca and Harriet Fitzmaurice were nominated for their support of the Lennox Children's Cancer Fund, for which they have raised thousands of pounds through spectacular productions and sponsored walks. Schoolfellow Sidhaant Garg was also nominated for his charity work. "A true advocate of the school's motto, he works tirelessly for those in need, shopping for food baskets, creating hand painted art items for charity sales and raising money for various causes including the Macmillan Cancer Trust," said the school.
St Thomas More High School, Southend-on-Sea nominated Ryan Hayes, a talented musician. "Ryan is tireless in his commitment to all aspects of liturgical music in school and in his parish," said the school, "and uses his talent with great sensitivity and humility."
Joy Davison and Samantha Dube shared the nomination at St Bernard's, Westcliff for their commitment and energy. "A learning ambassador, Joy organises and leads services of reconciliation and house assemblies, and volunteers at whole school events. And Samantha always offers to lead and motivate the sixth form during events, and is the first to volunteer for school activities," said the school.
St Benedict's in Colchester nominated Orla Campbell. When the bus she was travelling on hit a boy running across the street, 14-year-old Orla asked the driver to let her give the boy first aid. Although not seriously injured, the boy was in shock and Orla comforted him until help arrived. "She demonstrated true heroism, samaritanism and good citizenship," said St Benedict's.
Flora Wonnacott at St Joseph's Primary School in Harwich was nominated for her support of the local food bank where she spends much of her spare time. And Alexander Eklund and Thomas Hanlon were nominated by St Joseph's Primary in South Woodham Ferrers. The school said: "They have both overcome adversity whilst consistently living out the school's mission statement, treating others with maturity, kindness and compassion."
Four pupils were nominated by the Ursuline Preparatory School in Warley near Brentwood. William and Louis Bell are huge supporters of Georgia's Teenage Cancer Appeal, a charity set up following the death of a past pupil. They have used their sporting talents raising over £1,500 through Brentwood Fun Run sponsorship. Freya Goodhind and Florence Willett, meanwhile, have spearheaded a campaign to increase the sustainability of the school – and created an important legacy. Inspired by 'Laudato Si', Blue Planet 2, and their Year 6 environmental studies in geography, the girls have led their class in working with governors, SLT and the school council to bring about change in the way that plastic is used and re-used in school. They have also raised a significant sum for the Marine Conservation Society by making goods from recycled materials.
Elsewhere, 17 year old Bayley Wells was cited as 'inspirational' by Campion School. Since the tragic death of his friend David Efemena from a heart condition, Bayley has raised awareness of the medical condition cardiomyopathy and helped raise funds for a defibrillator. He is a member of the National Cardiac Young Person's Panel, has raised funds through runs and half marathons – and is already signed up for next year's London Marathon. Alongside this, he has supported his friend's family and helped organise an annual memorial service. In his own words: "Good friends are hard to find, harder to leave and impossible to forget, and David's name shall never, ever be forgotten."
At St Mary's Primary, Hornchurch, Maisie Francis was nominated as the 'epitome of the Catholic ideal of service to others'. Having read about a fellow pupil affected by type one diabetes, Maisie was moved to make a difference.  She instigated a whole school 'Blue' day and raised in excess of £600 for Diabetes UK.  She also donated eight inches of her hair to Little Princess Trust, a cancer charity which helps those who have lost their hair through chemotherapy treatment.
For Holy Family Catholic School in Waltham Forest, parish choir members Naomi Bangolu, Angela Davis, Cameroon Joseph and Emily Morera shared the nomination with film maker Lauren Smith. Said the school: "Singing in Our Lady and St George's Parish Choir every Sunday, at events and liturgies at Christmas, Holy Week and Easter, these recipients use their gifts and talents to serve God in the community.   They are an inspiration to all and particularly to other young people, encouraging them to become more involved in parish life."
Lauren, meanwhile, has designed the programme for E17 Films' International Film Festival and has filmed a short documentary on the local film industry, interviewing directors, actors and local councillors in the process. "She films events for the school and has recently directed and produced a short movie which will be premiered at this year's Festival," said the school.
Meanwhile, at the nearby Our Lady and St George Primary, Josiah was nominated for his care for his disabled sister and support for his mother.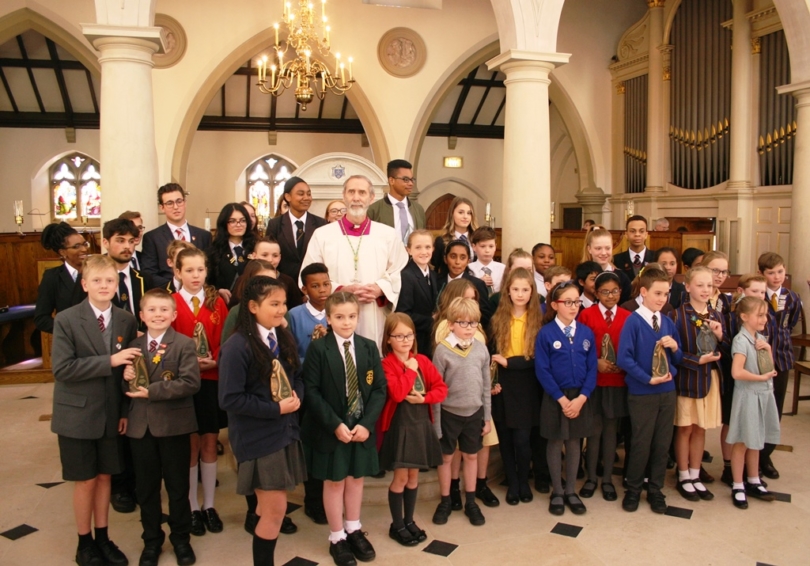 Some pupils at secondary schools in the London boroughs which are part of the Diocese have been involved in social action through citizens group TELCO (The East London Citizens Organisation).  17-year-old Jamie Halliwell is chair of TELCO at St Bonaventure's in Newham and is a very active advocate on issues affecting his borough. He regularly meets with local MPs and the Borough Commander to address the issues young people are experiencing in the area. Jamie does his best to raise awareness of the plight of the disadvantaged. He received a citizenship award for his school along with Dillon Linford and Amal Shabu, both of whom are very involved with fundraising for charities. Amal also leads the school CAFOD team .
Francesca Ward at St Antony's Primary, Forest Gate was nominated for her involvement in a housing campaign with TELCO. Concerned that the school would lose good teachers due to the cost of housing in the area, she raised awareness and encouraged the local authority to build affordable housing for teachers. As part of her campaign, she wrote to the local council and bravely presented to over 1,000 people at the TELCO 20th Celebration. She received the citizenship award in tandem with Darcie Bushnell who, like other nominees, had her hair cut in support of The Little Princess Trust.
At Trinity High School in Woodford Green, meanwhile, David Emeka was also nominated for his work with TELCO, along with joint head boy Jerome Adrien, and Tyler Emmanuel and Jessica Lyons who have raised considerable sums of money for CAFOD and homeless charity St. Mungo's.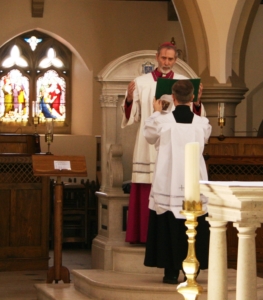 All the nominees received their awards from Bishop Alan Williams during the ceremony. He quoted Pope Francis: "Jesus wants to be your friend, and wants you to spread the joy of this friendship everywhere." The  young citizens had shown that friendship by their good work at home, in schools and in parishes, he said.
Director of Education for the diocese Robert Simpson summed up the event. "What a fantastic celebration of all that is good. It was a privilege to be able to attend and applaud the very positive actions of children and young people from across our Catholic schools. It is amazing to see the depths of love and care that they show to others."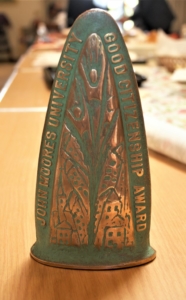 The Brentwood Catholic Schools' Citizenship Awards were inspired by Professor Lord David Alton in 2002 as a way to respond to government requirements re the inclusion of citizenship in the curriculum. Then just 11 schools took part. Lord Alton was a pupil at St Helen's, Brentwood and the Campion School, Hornchurch. An MP for many years, he is now a cross-bench peer in the House of Lords. Lord Alton was Professor of Citizenship, Liverpool John Moores University from 1997 to 2016.