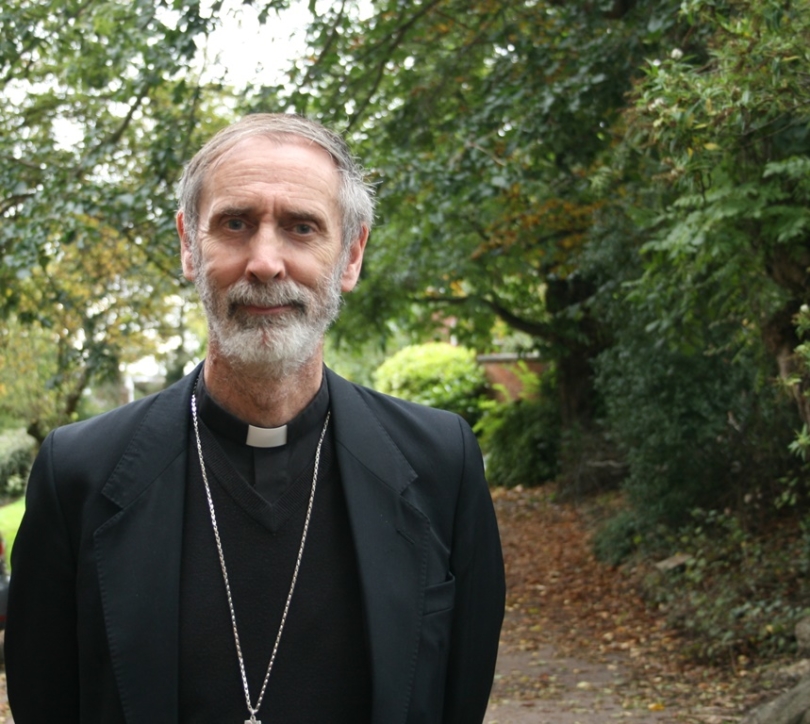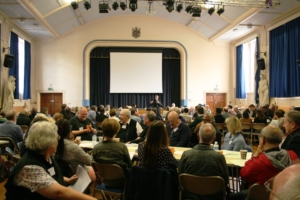 On Saturday 30 September, around 140 clergy and parish 'stewards of the gospel' came together at Brentwood Ursuline to take part in a 'question time' event on draft renewal and restructuring proposals previously put out by the Diocese of Brentwood. The overwhelming message they heard from Bishop Alan Williams and his Director of Development, Steven Webb, was that no decisions had yet been made and that when they were made they will be very much influenced by feedback from people in the diocese. Bishop Alan, in particular, described the process as one of discernment – listening, acting and praying together. He exhorted people to network, discuss their ideas and raise their voices. "Please network with us – with the Diocesan Strategic Planning Group, deans, priests and each other. Put in your views with charity, vision and positivity and you will be heard."
Director of Development, Steven Webb, led attendees through the draft working plan, entitled 'Working together to Evangelise our Diocese', which is very much rooted in Pope Francis' Evangelii Gaudium. "We need to avoid saying that we have to make changes because of the shortage of priests," he said. "We need to renew and restructure for positive reasons. In any business or walk of life, people are constantly striving to be better at what they are doing. As a church we should be no different." He said the draft plan is part of a discussion process. "If is not a final plan or a detailed explanation, it simply offers ideas – and today is an opportunity to share our thoughts, hopes, fears as we move towards a first formal proposal."
Steven Webb said the plan was a response to God's love and the emphatic message of Evangelii Gaudium. "Pope Francis exhorts us all to do something, to embark upon a new chapter of evangelisation marked by joy," he said. "And Deus Caritus Est reinforces our three-fold responsibility – to proclaim the word, administer the sacraments and exercise the ministry of charity."
The renewal and restructuring components of the draft plan cannot be thought of separately, he continued. "They have to go hand in hand." He outlined and justified the 12 strands of work seen as priorities (in no particular order): formation; leaders; money; property; priests and people; stewardship; schools; young people; caritas; vocations; liturgy; integration.
Steven Webb went on to discuss the four part restructuring framework suggested in the plan for the location of priests within the diocese over the next 20 years or so. "The best information that we have tells us to expect 52 priests based in 33 locations in 2035. So where should they be?" In the first part of the framework, fourteen locations are identified, based on the proximity of schools and hospitals; in the second part, four areas which are missing from that category are identified; the third part identifies places with the largest existing congregations; and the fourth part aims to begin moving people over time.
He summed up by affirming the Diocese's commitment to look after both priests and people wherever they might be. "We must work together and think beyond our parish boundaries. Things that are worth doing are seldom easy. Let us know your views on these proposals – nothing is yet decided. We need your feedback."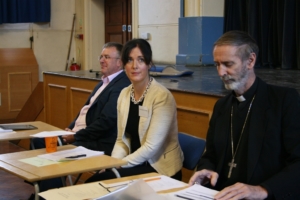 A question time session followed, with a panel made up of Bishop Alan, Steven Webb and Ann-Marie Conway, a member of the DSPG. The pre-submitted questions were wide-ranging. Are Ordinariate priests a stopgap? Has the engagement of priests from overseas been fully considered on either a short-term or more permanent basis? Are married priests the answer? What is expected of lay people in parishes? How will relations between priests and people be maintained with increased boundaries? Are trends in demographics being considered? How can we better use technology? What about funding and training for stewards? Will rural parishes with no school or hospital be abandoned? Should universities have a steward? Will our secondary schools become responsible for preparing our young people for confirmation? The panel answered the questions with honesty and as much clarity as they could, emphasising the need for respectful and active listening between all parties.
Later, the panel took adhoc questions and comments from the floor on the links with strategy planning in education and health; how to evangelise; vision; how the youth are involved in strategy; and adding the family to the list of working priorities.
Throughout the event, the theme was clear: the Diocese is listening and wants to hear the ideas and comments of its people. As Bishop Alan concluded: "Raise those questions – we will take them forward. This is about how we go forward with energy and backbone, with Christ, and get things done."
The draft document is : Diocese-of-Brentwood_Working-Together (2)
To respond to the ideas within it, contact your parish steward or send them direct to [email protected] by 20 October, ahead of any formal proposals.