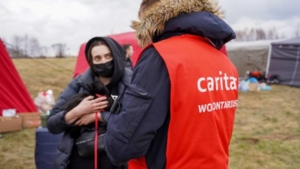 As many parishes and individuals consider what they can do to support Ukrainian refugees, Caritas Development Coordinator Siân Thomas and Fr Dominic Howarth are regularly updating guidance on our Caritas Brentwood webpage, which comprises a summary of useful websites and key information: https://www.caritasbrentwood.org/ukraine/
Fr Dominic says: "There has already been a tremendous outpouring of prayerful support, practical help and financial donations for those in Ukraine, and those who have fled as refugees. Many of us know people from the Ukraine, and the tragedy unfolding there is truly horrific."
He adds: "The Diocese serves as a Lead Sponsor for the Community Sponsorship Scheme, welcoming predominantly Syrian refugee families to the UK. Because of that involvement and our links to CSAN, we  can share accurate and direct information, as it becomes available. "
Writing to parishes, he has highlighted two particular points:
Aid agencies and Government are united in recommending that donations of funds are far more helpful than donations of goods. "Where collections of clothes, etc., have been taken, hopefully they will be useful, but there is a significant cost in getting a van to the Polish/Ukranian border, and immense challenges in distributing goods in an ad-hoc way. It is far, far better to direct donations in cash to CAFOD/DEC emergency appeal, or directly to Caritas Ukraine (https://caritas.ua/ and click the Ukranian flag on the top left hand side of the page to get translation options)."
Details of the Government "Homes for Ukraine" scheme can be found at https://homesforukraine.campaign.gov.uk/ and there is also a helpful grassroots website https://www.sanctuaryfoundation.org.uk/ Parishioners who wish to welcome people to their homes  can register for this on the Government website. There are some very important considerations around doing this, and these are listed on the Caritas website. He says: "Most helpful as a parish will be to link parishioners who are welcoming people, to give them an embracing network of support – arrivals will need a lot of care and help, including in some cases with language, health, jobs and schooling – the parish could be a wonderful network for this." Safeguarding will also be a vital consideration; those arriving are very likely to have suffered trauma, and to be vulnerable, he warns.
Initially, he says, the "Homes for Ukraine" scheme is for those who know Ukranians; the potential host names a refugee individual, couple or family that they are willing to accommodate. After that the Government will help "match" refugees with those who are offering homes, and says it is building Safeguarding and GDPR requirements rigorously into this.
Diocesan insurers CIS have made it clear that hosting a family or individual on Diocesan property – within a presbytery, or a house owned by the parish – can also be done, as this falls within existing property cover. It has issued a briefing note with much advice for parishes which want to consider this option.
Fr Dominic says: "For all of this, training, support and preparation will be vital for those hosting; the Government scheme is pledging to offer this, and we would encourage you to help at parish level by bringing together people who are hosting, before refugees arrive, to take part in training and sharing ideas together, again helping to build a network locally."
The Cathedral parish has already set up such a meeting on Wednesday 30 March at 7.30pm in the parish hall to discuss how the community might support both refugees and those who are hosting.  Fr Dominic is encouraging other parishes to look at the website guidance and consider arranging a similar meeting to discuss ways to set up a network of support.
"Making a link with your local council would be helpful here as they have funding to help with this support. Many Ukrainians are Orthodox Catholics, and we are likely to be the closest church for them. Members of the Ukrainian Orthodox Churches are able to receive Communion in the Roman Catholic Church – though they may also wish to go to the Ukrainian Church in London."
The Caritas site https://www.caritasbrentwood.org/ukraine/ will be regularly updated as new information becomes available.