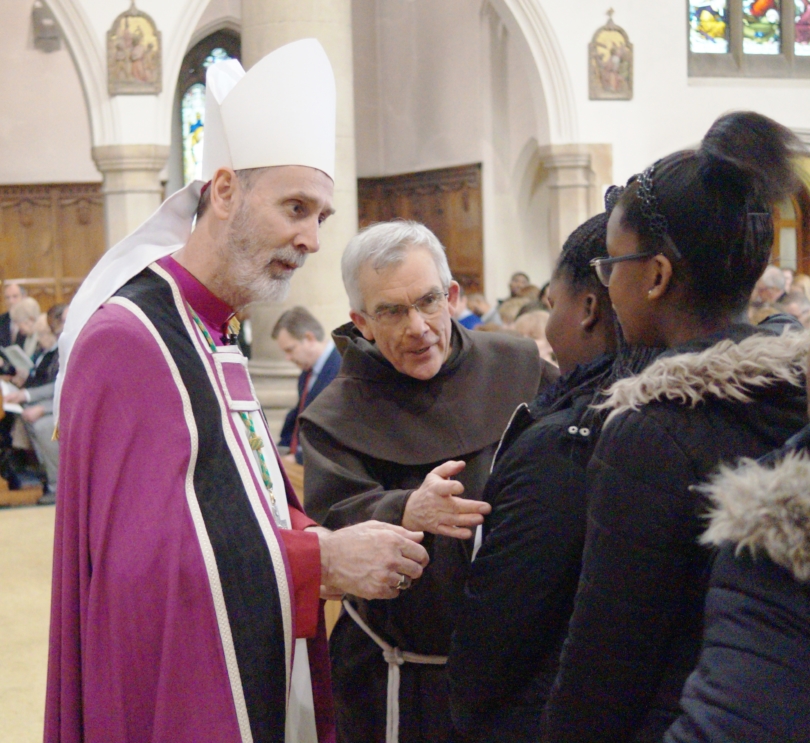 At this year's Rite of Election back on Sunday 5th March, 220 people from 38 parishes across the Diocese made a commitment to join the Catholic Church. Their journey began with a Rite of Christian Initiation for Adults (RCIA) programme in their individual parishes and will come to fruition tomorrow at Easter Vigil services across the Diocese.
This year's Rite of Election took place at St Antony's in Forest Gate because Brentwood Cathedral was closed for renovation. Bishop Alan presided at the service, personally welcoming each individual in the Book of the Elect: "It was a great gathering with a mixture of ages and a lot of younger people. Meeting people is a great privilege – and the best part of a bishop's job."
He added: "Lent is very much about the candidates and catachumens' journey in faith, about their preparation for the Easter sacraments of baptism and confirmation. And that journey is about moving away from sin and into Christ's life; it is about reconciliation and forgiveness of sin. The world is aware of sin but can't deal with it. Sin is dealt with by Christ on the cross."
Danny Brand, a 27-year-old from Shoeburyness, was present at the Rite of Election. He began the RCIA process in September with a family friend as his sponsor. "I lost my mum a couple of years ago and started going to church then because it made me feel closer to her. I had attended St Thomas More High School as a child but we had moved away from the Church. But I felt now was the right time to do something about it."
He says his sponsor was a really important part of the journey. "Sharing and talking to her about what I was learning was really helpful – and she has learnt so much too."
He enjoyed the service and is excited about the prospect of joining the Church. "It has been an emotional journey and I am really looking forward to the Easter vigil. My mum wanted me to find my own belief – and I think that's what I have done. I feel that I have done the right thing."
John Gunn, who attends the neighbouring parish in Southend, has a different story to tell. "I have been an Anglican since birth but have been going to a Catholic church with my wife for nearly 50 years." Now, as he celebrates that Ruby Wedding anniversary, he is set to become a Catholic at last.
John has sampled RCIA sessions before but it wasn't until he started a course with his new priest, Fr Graham Smith, that he became convinced that he wanted to go the whole hog and become a Catholic. "Fr Graham has been a breath of fresh air – he is a remarkable priest and very down to earth. He gets the message across in a way that really sticks, bringing in everyday life and the world but also getting across the RCIA ideas.  It has been a fascinating journey."
He has fond memories of the Rite of Election at Forest Gate. "St Antony's is a beautiful church and the choir was superb. I thought it a wonderful service and I enjoyed every moment of it."
He particularly enjoyed talking to Bishop Alan, who remembered him from a previous meeting. "He is a real people person – very friendly and knowledgeable, not austere and distant. And he doesn't talk down to you."
He concluded: "I am very much looking forward to the vigil – and celebrating our 50th wedding anniversary."
Pictures from the Rite of Election