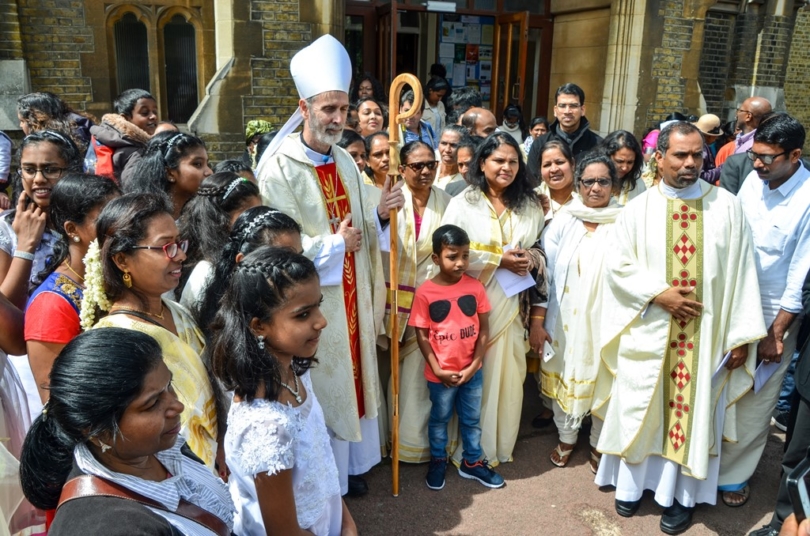 The 12th Migrants Mass was hosted this year by the Diocese of Brentwood for the first time at St Antony of Padua, Forest Gate. In honour of St Joseph the Worker, the Dioceses of Westminster, Southwark & Brentwood came together to celebrate the international nature of our churches, the work migrants contribute to society, and concern for their welfare, welcome and human dignity.
Bishop Alan Williams sm, Bishop of Brentwood, presided at the service.  He was joined by Monsignor Matthew Dickens from Southwark, Fr David Irwin, episcopal vicar for ethnic chaplaincies from Westminster, and 30 concelebrating priests, including Fr Joseph Lliang, Chinese chaplain, Fr Johnson Alexander. Fr Victor Camilleri OFM, Maltese Chaplain, Fr Tibor Borovsky, Slovakian Chaplain, Fr Mark Reilly, Mgr Kevin Hale, Fr Philip Denton, Fr John Maloney (parish priest of St Antony's), Fr Johnson Alexander and Fr Sebamalai Sebanesaratnam.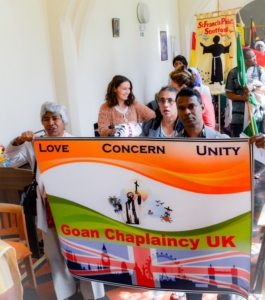 Citizens UK organised the banner procession which preceded the Mass. Schools, parishes and ethnic communities wearing traditional dress processed into the Church, carrying colourful banners. St Stephen's Catholic Parish, Manor Park, St. Francis of Assisi Parish, Stratford, St. Thomas of Canterbury Parish, Woodford Green, the Kerala Community, the Diocese of Westminster's Justice and Peace group, the Catholic Workers Union, the Shpresa Programme, the Congolese Chaplaincy, the Vietnamese Chaplaincy and the Chinese Catholic Community were among those represented, along with the Citizens UK banner, Refugees Welcome.
The assembled congregation heard testimonies from Captain John Clifton of the Salvation Army, about the charity's involvement in refugee sponsorship, and Shpresa, an Albanian refugee group. A Year 8 pupil from nearby St Bonaventure's School also talked about the work done by the school's Student Refugee Team.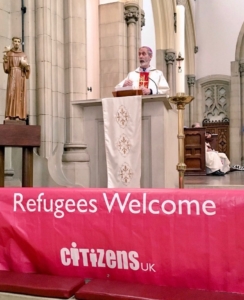 In his homily, Bishop Alan expressed his thanks for the testimonies and his appreciation of St Bonaventure's and its work of witness.
"I firmly believe that if we are to welcome migrants, to be open to others, to welcome ideas, it is a matter of education – education can overcome many things."
He referred to the words of the young Shpresa refugee, who talked of being 'lost and confused'.
"Many of us would empathise with those words.  At its simplest, when we go to a foreign country for the first time we experience a different culture and language: people are talking and you don't understand a word. For some migrants it can be far, far worse than that. In January, the Holy Father issued a message for Migrants and Refugees Day, in which he said: 'amongst migrants, children constitute the most vulnerable group because they are invisible and voiceless'."
"I can't imagine what that is like. My own childhood was happy and trouble-free but if a child is not happy, loses family, friends, home – I can only try to imagine what that must be like. As Pope Francis says, for those people who go to the extremes of 'lost, vulnerable and confused' – we need somehow to understand them, somehow to comfort them.
"The question this morning is how do those words, 'lost and confused', apply to Jesus? When was Jesus lost and confused? We heard in the Gospel that he went back to his home town and was rejected. And when he went to some other places he was condemned for being associated with sinners, tax collectors and prostitutes. He was seen as no good. So was he lost and confused?
"Last year we celebrated the Year of Mercy. It was the most amazing holy year, shifting hearts and minds. But the world does not understand the mercy of God in Jesus Christ. He is pure mercy but what do we do, we humans? We don't accept him, we don't get it. So, for me, that means our Lord knew what it was to be lost and confused in a strange human world where instead of love, there is hatred; instead of peace, there is warfare; instead of welcome and hospitality, there is rejection.
"Let's be honest – sometimes challenging the world by helping the stranger, the migrant, the refugee can be a very unpopular option. We hardly ever see great big banners or neon signs on refugee centres. Being publically sympathetic to refugees is difficult. Being like Christ, carrying the mercy of Christ is not understood by this world."
However, he said that he felt very encouraged by the development of the Community Sponsorship Scheme outlined by Citizens UK in the Mass booklet. "This involves ways to give practical help to refugees. As Cardinal Vincent Nichols says in the booklet: 'We are delighted that the community sponsorship is being launched in the UK; Catholic charities have been involved with shaping the scheme and we already have groups keen to sign up and help. This innovative scheme will enable everyone to get involved with welcoming refugees, offering a very real and tangible way for people to help new arrivals settle into their communities.'"
Bishop Alan emphasised the words 'a real and tangible way'. "Sympathy is great; compassion is great; mercy is great; love is fundamental; but we also have got to be 'as wise as serpents', making sure that what is set up is not going to add to the loss and confusion of those arriving. I am encouraged by the practical nature of what we are being asked to do in the scheme guidance – things like cultural orientation, housing, English language tuition.
I take heart because this is becoming possible. I know in my own diocese that people have been talking and negotiating, consultors, trustees, the Bishop's Council, Essex County Council, Citizens UK, religious communities – they are all there wanting to help. So let's open our hearts and be people of love – and also try to think of ways to do something practical, something tangible, so that we will not let our friends down again. They have been let down so many times and we need to end their loss and confusion."
He thanked refugees and migrants for the ways in which they enrich the Diocese of Brentwood, its parishes and its schools, and commended the ethnic chaplaincies for their generosity and goodness. He reminded his audience of the difficulties faced by St Paul, mentioned in the reading. "At times he was lost and confused, beaten up, rejected. He says, when I try to make sense of all this, preach the Gospel, I put on the love of Christ. If you want to go and pray about love, the best place to look is Pope Francis' Amoris Laetitia, The Joy of Love. Chapter four contains a very powerful meditation on love."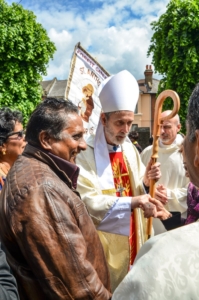 He quoted St Paul's words in his first letter to the Corinthians: 'Love is patient; love is kind; love is not envious or boastful or arrogant or rude. It does not insist on its own way; it is not irritable or resentful; it does not rejoice in wrongdoing, but rejoices in the truth. It bears all things, believes all things, hopes all things, endures all things.'
"I suggest that all of us – chaplains, priests, people from Southwark, Westminster and Brentwood, migrant friends, the Salvation Army can pray in these words, substituting 'I' for the word 'love'."
"I am sure that if we all have St Paul's words about love in mind, we can be Christ-like in this world and do mighty things. I am very confident about the possibilities open to us as we go forward together."
The music for the Mass was organised by Shea Lolin, with Andrew Wright playing the organ. The choirs of St Angela's, St Bonaventure's and St Antony's Schools also took part, while other  students did readings and served at the altar.
Pictures by Olivea Ohonmele.