DIVINE MERCY DEVOTIONS 2022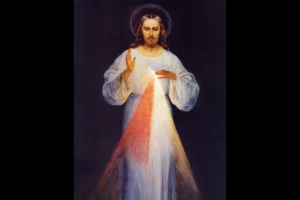 The second Sunday of Easter, 24 April, marks Divine Mercy Sunday. The feastday was added to the liturgical calendar by St John Paul II to celebrate the overwhelming mercy of Jesus Christ. Within the Diocese, the following parishes will be holding Divine Mercy Devotions this Sunday.
Canvey Island
Our Lady of Canvey and the English Martyrs
1 p.m. Adoration
Chelmsford
Blessed Sacrament
3 p.m. Sung Divine Chaplet and St Faustina's Divine Mercy praises.
Chingford
Christ the King
6pm Evening Prayer and Benediction with litany of Divine Mercy.
Dagenham
St Peter
2.00 p.m. Exposition of the Blessed Sacrament
3 p.m. Chaplet of Divine Mercy
Confessions available
Dunmow
Our Lady and St Anne Line
3 p.m. Divine Mercy Service
Leigh-on-Sea
Our Lady of Lourdes and St Joseph
Devotions begin at 2.30 p.m.
Confessions available.
Leyton
St Joseph's
12 noon Mass
1p.m. Divine Mercy Devotions
2p.m. Healing Mass
Confessions available
Maldon
Assumption of Our Lady
10 a.m. Exposition of the Blessed Sacrament with personal prayer until 3 p.m.
2pm – 3pm Confessions
3pm praying the Divine Mercy chaplet.
Southend-on-Sea
The Sacred Heart
Devotions begin at 2.30 p.m.
Tiptree
St John Houghton
5 p.m. – 6 p.m. prayers followed by Mass
Walthamstow
Our Lady and St George
Devotions commence at 1:30pm with Adoration
Recitation of the Rosary and Divine Mercy prayers.
3:00 pm sung Chaplet
Followed by celebration of the Holy Mass with veneration of the Image.
Wickford
Our Lady of Good Council
Devotions begin at 3 p.m.