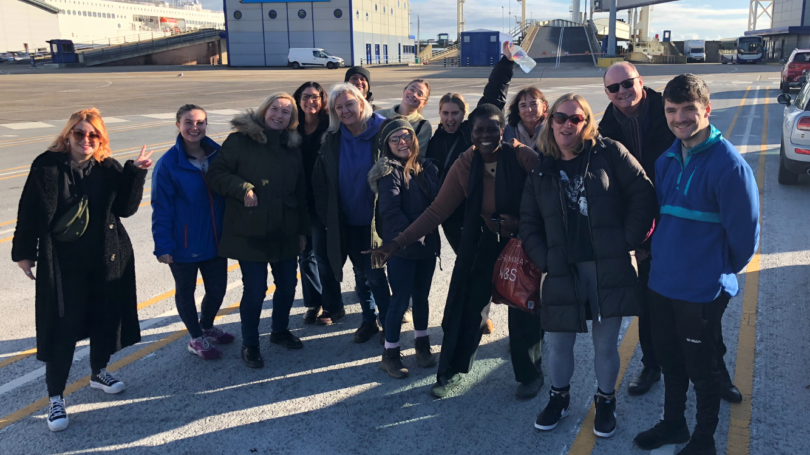 Did you know that since 2015, groups of ordinary people have been travelling in convoy from Shenfield to spend a weekend in Calais as volunteers supporting refugees? These regular trips are organised by Calais Light, a charity set up by former BBC journalist Mary Stretch. She offers people the opportunity to do something practical to help those fleeing war or desperate circumstances and now living in appalling conditions in Calais.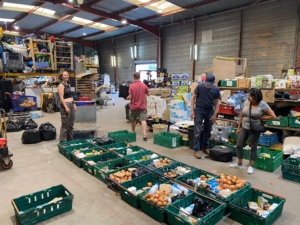 "People who would go to Marbella in a heartbeat don't feel confident about going to Calais," she says. "So we offer an easy and robust process to help them overcome their fear, booking travel, accommodation in a hostel and meals out."  The volunteers then support three grassroots charities (Care4Calais, Refugee Community Kitchen & Calais Appeal) in their work with the refugee population living outdoors in Calais. "We have just made our 21st trip," says Mary. "We believe the convoy experience transforms volunteers into people who fully understand and respect refugees. Calais Lighters return time after time, but we are always want new people."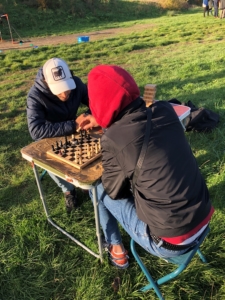 Calais Light is also appealing for volunteers to support refugees trying to begin life in the UK. Mary, who is also a Home Assessor for Refugees at Home, says: "We will be partnering with larger refugee charities with access to UK refugees and asylum seekers, providing temporary boosts of extra manpower. Our volunteer groups  will "befriend " refugees in bridging hotels and the tasks are easy for anyone to do: talking, listening, taking them for walks, driving to medical appointments, playing board games or chess, helping with English or simply "decoding" this new life or town in the UK."
She has been much heartened by the effects of Gary Lineker's comments about the Government's rhetoric around the illegal migrants bill which seeks to criminalise anyone crossing to the UK in small boats.  "I am thrilled about what has happened. He has managed to awaken the hearts of the British public towards refugees through the power of celebrity and football. We must not let that empathy drain away."
She contrasts the treatment of 266,000 Ukrainians who have been welcomed into our country and homes, and allowed to work, with our treatment of those desperate enough to risk their lives in small boats. "Gary Lineker was prepared to stand up and say this is wrong and it is racially motivated. We are very selective about who to have compassion for and it took Lineker and his removal from Match of the Day to make us say, hang on a minute, people fleeing unimaginable horror and devastation should not be criminalised. People now seem to realise that refugees are not the enemy."
She says Lineker, who has housed refugees himself, in effect asked us all to think for ourselves. "We only take a tiny proportion of the world's refugees compared to other countries and we need to realise everyone needs a home, a sanctuary, without saying 'there is no room at the inn'."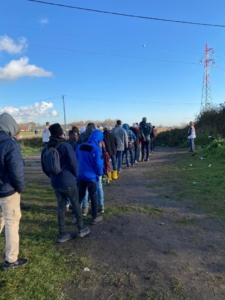 The UK is one of the original signatories of the 1951 UN Refugee Convention, which recognises that refugees may have to enter a country of asylum irregularly, she adds. "And we have a long tradition of helping people – just think of the kindertransport." Half of the 45,000 people who crossed the channel last year came from Afghanistan, Eritrea, Iran, Sudan or Syria. At least 80% of  asylum claims from those countries are currently granted. For Afghanistan, Eritrea and Syria the figure is 98%.The bill, if enacted, would mean that asylum claims from anyone crossing the channel would be 'inadmissable', no matter how genuine and compelling their claim might be. They would face detention and deportation instead. The UNHCR is very critical of the move. It says: "Most people fleeing war and persecution are simply unable to access the required passports and visas. There are no safe and 'legal' routes available to them."
Mary sees support of refugees as her life's work and has persuaded big brands like Puma, Unilever and others to back the charity and its activities. One initiative, CourtCommerce, changes the narrative around refugees arriving in the UK. "It sources donations from huge clothing brands so that the refugees we work with can choose stylish, brand-new, correctly-sized, age-appropriate clothing and other products. These gifts 'honour refugees and acknowledge their loss' allowing them to feel welcome, valued and more able to survive."
Another coup is sponsorship by global brand Gap UK – a commitment very far from lip service: "The MD, marketing director and other staff will be rolling their sleeves up on our next volunteers weekend in Calais," she says.
Find out more about Calais Light, volunteer for a weekend or in the UK, at: www.calaislight.com  Read the Refugee Council's briefing based on Home  Office data,'The Truth about Channel Crossings' www.refugeecouncil.org.uk
Mary Stretch talks to BBC Essex about refugees, Gary Lineker and government policy