Fr John Garrett died peacefully at Conewood Manor Care Home, Bishop's Stortford this week. His body will be received into the church at Stansted Mountfitchet on Wednesday 26 February at 8.30 pm.  A Requiem Mass will be celebrated at St Therese of Lisieux, Stansted Mountfitchet on Thursday 27 February at 11 am.
Fr John was born on 23 January 1944 and grew up in Stratford. He was a convert to Catholicism in his late teens.  He joined the Franciscans but left as a novice. He studied at Campion House, Osterley, and entered St John's Seminary, Wonersh, on 13 September 1966 as a student for the Diocese of Brentwood and was ordained to the priesthood on 23 July 1972 by Bishop Casey at Lexden.
Fr Garrett served as an assistant priest at Upminster (1972-1975); St Basil, Basildon (1975-1978); St Mary, Hornchurch (1978-1981); Our Lady of Grace & St Teresa of Avila, Chingford (1981-1983) where he also served as Assistant Vocations Director. He served as parish priest at St Thomas More, Harlow (1983-1984;, Dunmow (1984-1988); Shoeburyness (1988-1996); Saffron Walden (1996-2011); Upminster (2011-2012).  He took a sabbatical in 2012 and then continue his service to the Diocese as parish priest of Stansted (2013-2019). He retired to Conewood Manor Care Home, Bishops Stortford in 2019.
Bishop Alan says: "Fr Garrett was much loved by the people in all the parishes he served.  Please do remember him in your prayers and Masses."
Deacon Des Connors, from Stansted Mountfitchet parish, writes: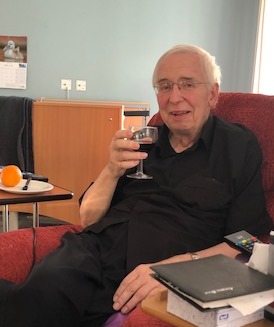 "Father John Garrett was a very good friend not just to me but to many people. He had a tremendous sense of humour and we spent many days travelling around various antique shops where he would enjoy haggling over items that looked to me as though they were junk!!
He loved going out and especially going somewhere nice for lunch. We would often go to Cambridge for days out and despite it becoming increasingly difficult for him to walk, he would not give up.
He took every piece of bad news about his health stoically and I would accompany him to various hospital appointments.
On one occasion the specialist began listing his various ailments and he sat there and said "that doesn't sound too bad"… I asked the specialist if he qualified for some sort of NHS hamper due to the amount of time we spent in medical establishments.
He was a gentle soul who lived his books and would put on his Nana Mouskouri CDs and tell me how great she was. I tried to  get him to listen to Oasis but he referred to them as 'oinks'.
He was much loved and was my dear friend who will be missed."