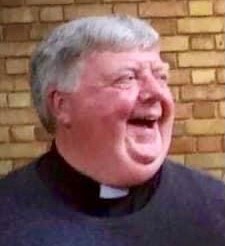 Please pray for the repose of the soul of Fr William Newton who died yesterday in Southend Hospital. Fr William received the Last Rites from Fr David Prior during the afternoon and died later in the presence of members of his family. May he rest in peace.
Born in Bradford, Yorkshire, in 1951, his father worked in the textile industry and his mother in a variety of part-time jobs to help supplement the family income. The family later moved to Wakefield, Yorkshire. He briefly did an apprenticeship as an electrician before joining the Police Cadets and was with various Northern Police Forces in several roles from 1978.
In 1986 he entered Chichester Theological College to study for the Anglican ministry. He was ordained as a deacon in the Church of England in 1988 and was appointed as a curate at St Margaret, Leigh-on-Sea. His ordination as an Anglican priest took place in 1989. He served as Vicar of All Saints, Belhus Park, South Ockendon, from 1992 to 1994.
He was received into the Catholic Church in 1994 and, as a former Anglican clergyman, he was called to Catholic priestly ministry and received a dispensation from Rome to proceed with Holy Orders. He studied at St John's Seminary, Wonersh (September 1995 to October 1996), being ordained to the diaconate on 12 October 1996, and was appointed to serve at Holy Cross, South Ockendon.
Following his priestly ordination by Bishop Thomas McMahon at Brentwood Cathedral on 24 May 1997 he was appointed as Priest-in-Charge of St Peter, Eastwood, where he lived with his family (his late wife June and his three children) from April to October 1997. In November of that year he was appointed as Priest-in-Charge of Holy Family, Benfleet, with St Thomas More, Hadleigh. He resigned in June 2009 and subsequently retired to Yorkshire. Fr William moved back to this diocese last year.