Arrangements have been announced by the Bishop's office for the funeral of Mgr Michael Corley, who died on Friday night.
Mgr Michael's body will be received into the Cathedral Church of St Mary & St Helen at 6.30 pm on Tuesday 4 April and there will be a Requiem Mass in the Cathedral on 5 April at 11.30 am, followed by burial.
Refreshments will be served afterwards in the Cathedral Halls.
Diocesan Archivist, Fr Stewart Foster writes:
MONSIGNOR CANON MICHAEL CORLEY (1939-2017)
David Michael Corley (always known as Michael), was born in Braintree, Essex, on Michaelmas Day, 29 September 1939, just over three weeks after the outbreak of the Second World War. In fact, his parish church, Our Lady Queen of Peace, Braintree, had been opened on 31 August 1939, reputedly the last Catholic church to be opened in Europe before the outbreak of war on the following day.

As a young boy Michael Corley was an altar server at Braintree and received his education from the Josephite Fathers at St George's College, Weybridge, Surrey. He was accepted as a student for the Diocese of Brentwood by Bishop Wall in May 1957 and studied for the priesthood at the Venerable English College, Rome, where he was ordained on 27 October 1963. In 1964, after completing his Licence in Theology in Rome, he was appointed as an assistant priest at St Mary Mother of God, where the parish priest was the eminent Canon Lawyer, Monsignor Daniel Shanahan, Chancellor of the Diocese of Brentwood. Dan Shanahan had been a founder of the Canon Law Society of Great Britain & Ireland and in 1964 Michael himself joined that august body. Indeed, he followed in Dan's footsteps, returning to Rome to study for a Licence in Canon Law (1965-1967). He then resumed his duties at Hornchurch (1967-1970), meanwhile serving as Defender of the Bond and then as Advocate on the Diocesan Tribunal.
In 1970 the newly-appointed Bishop Patrick Casey chose Michael to act as his Private Secretary and so he left Hornchurch to take up residence at Bishop's House, South Woodford, London E18. He was also appointed as Chancellor and Judicial Vicar of the Tribunal (posts which he held until 1982 and 1986 respectively). Meanwhile, in 1973, he was appointed as Parish Priest of St Augustine of Canterbury, Barkingside, and in 1977 was named by Bishop Casey as a Canon of the Brentwood Cathedral Chapter.
In 1981 Bishop McMahon appointed Canon Corley as Vicar General, together with Fr (later Monsignor Canon) David Donnelly. He was made a Prelate of Honour with the title 'Monsignor', and served as Vicar General until 1991 (and also as Vicar General for Finance 1987-1991). The photograph  shows him with Bishop McMahon and Pope St John Paul II in Rome (1983).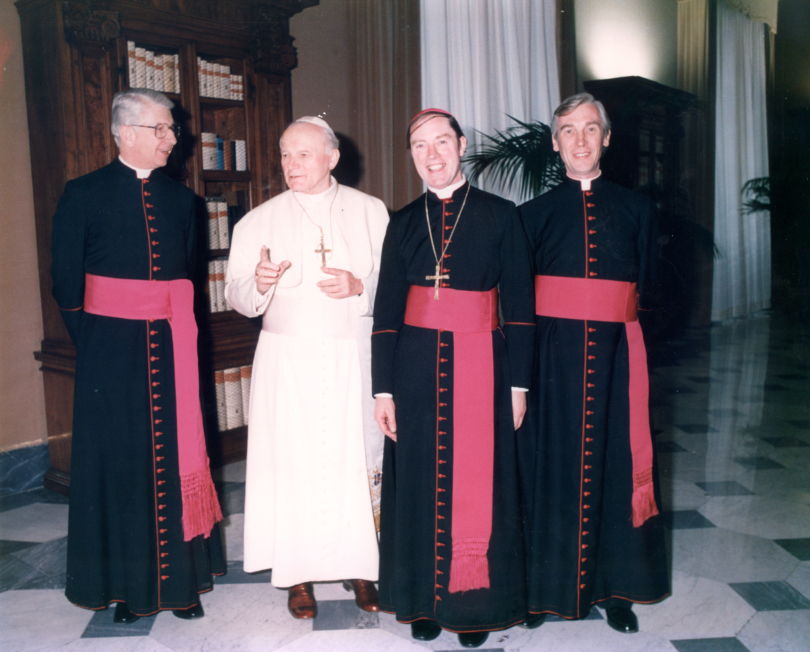 Monsignor Corley subsequently served as Parish Priest of St John the Baptist, Ilford (1983-1992), Our Lady of Light & St Osyth, Clacton-on-Sea (1992-1999), and Our Lady Queen of Heaven, Harwich (1999-2003). In 1983 he retired to near the village of Weeley, not far from Clacton, but continued to assist with the celebration of Sunday Mass at Clacton, Jaywick and Holland-on-Sea (and in other parishes as well) until his multiple sclerosis (which was diagnosed relatively late in his life) necessitated complete retirement from public duties. In addition to the aforementioned responsibilities, Michael also served as Chairman of the Diocesan Social Welfare Commission and on the Council of Priests and the College of Consultors. It is hard to think of a priest who served his diocese, both pastorally and administratively, to a higher degree than Monsignor Corley, and always with patience, generosity, kindness, good humour and a deep concern for souls. In his spare moments he was a keen ornithologist, having joined the Essex Wildlife Trust in 1989. He also enjoyed music, sport and gardening.
He died in the presence of his family in Colchester Hospital on 10 March 2017. He was 77 years of age and had been a priest for 53 years. Requiescat in Pace.