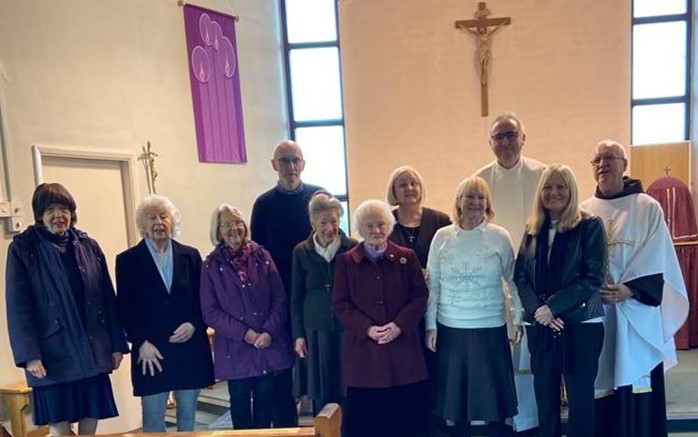 On 1 December 2022 a new secular Franciscan Fraternity was established in Grays; this is something that doesn't happen very often – the last time it did was over 30 years ago. The members of the new fraternity are pictured above. Franciscans of the Third Order Secular are ordinary people, both men and women, single and married, who live in the world, work for a living, and who take their inspiration from the unique life of St Francis of Assisi. They usually take on some voluntary charity work or parish work in their spare time and their motto is 'Gospel to life & life to Gospel'.
These are some of the aspects of Franciscan Spirituality:
Respect for the dignity and worth of every person
Living both an active and a contemplative life
Care for creation
Praising and thanking God
Belonging to a community
A spirit of detachment
A spirit of service
The new Santa Chiara Fraternity was canonically established in Grays by the Order of Friars Minor. Br Donal Walsh OFM was given the faculty to establish the Fraternity by the OFM Custos for Great Britain, Fr Michael Copps OFM, and with the permission of the Local Ordinary Rt Rev Alan Williams SM, Bishop of Brentwood.
During his sermon, Br Donal (far right in the picture above), who is a Spiritual Assistant to the OFS in Great Britain, spoke about the inspiration and hope that the new Fraternity brings and how at a time when church attendance is in decline, this new growth is a sign of positivity and encouragement to us all.
Fr Paul Boagey MHM, the Spiritual Advisor to the group, concelebrated the Mass of the Establishment.
Four days later, on 5 December 2022 the first Council for the Fraternity was elected.
Santa Chiara was an Italian nun and religious leader who, with Saint Francis of Assisi, founded the first Franciscan order of nuns, the Order of Poor Ladies, also known as 'the Poor Clares'.  She was canonised in 1255. To find out more about the Franciscans in the UK go to: Who are The Secular Franciscans of The Third Order? – OFSGB