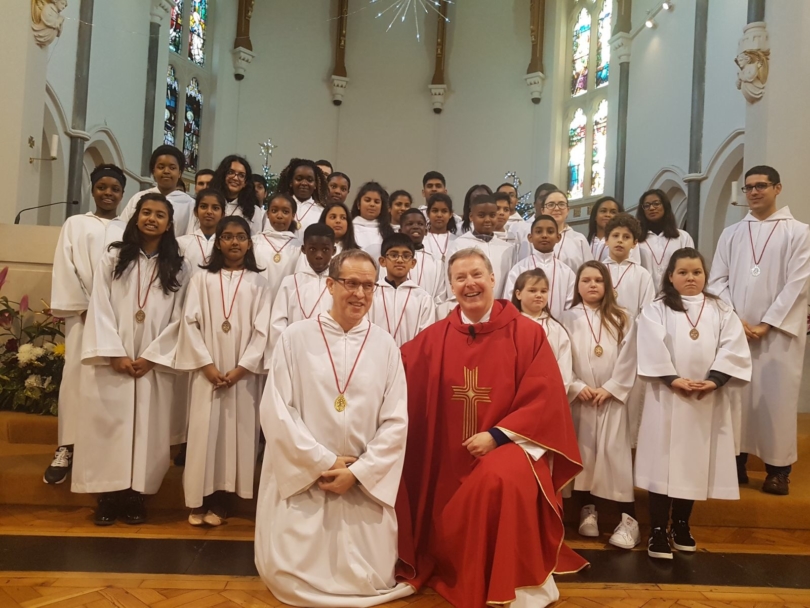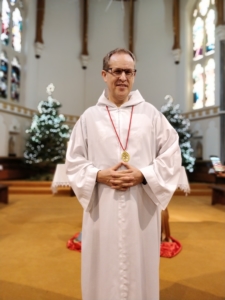 Michael Baumann, MC at Ss Peter and Paul's Ilford, was recently presented with his Guild of St Stephen gold medal by Fr Andrew Headon, after 50 years of serving at the same parish.
He started serving in Ilford in 1967 and has no plans to hang up his cassock.  "Serving this past 50 years has passed all too quickly and, whilst there have been many changes in the church, I can say that serving in the parish has been one of my most rewarding experiences. I have made long-term friends and, through the parishioners' encouragement, friendship and their prayers, hope that I will be able to continue for another 50. That way I feel that I am only half way through my journey."
His memories of his half century in the parish are populated with the familiar names of priests, living and dead. Poignantly, they also reflect a time when assistant priests were in place in many parishes, helping the incumbent with his duties and learning on the job – a far cry from the situation today.
In Ilford 50 years ago, Michael recalls, Canon Martin Hancock had moved away to form the new parish of Saint John the Baptist in Wanstead Park Road, Ilford and was replaced by Canon John Walsh. He was assisted by Fr. Bernard O'Brien and later by Fr John Lane, both of whom kept in contact with Michael over the years.
"My earliest experience was serving with my father at the 7am weekday Mass at the age of roughly six and three quarters. Having not made my first Holy Communion meant that I faced a dilemma of sitting alone in the church," he recalls. "Canon Walsh gave special permission for me to serve in the 'Left' position while my Father took the 'Right' position." The titles were  given to servers in those days, he says, along with a strict code of what was carried out and by whom.
"'Left' was not a particular important position but I remember my father's advice was to watch and observe the priest and the servers around me. This taught me a great deal and to this day I still observe and adapt as a new priest arrives."  The Ilford parish has received many visiting priests from all parts of the world over the years, he says. "If they are not familiar with the parish protocols, they can catch out many younger servers who are out of their comfort zone."
Michael made his first Holy Communion in May 1967 and served his first Sunday Mass at the 9.30am and the obligatory 11.30am Latin Mass, together with Benediction at 6pm. "There were fewer than 15 servers to cover the seven Sunday services," he recalls. "My early memory of the morning Mass and Benediction was being one of six torch bearers and attempting to press the torch into its holder without making a noise. That would upset the priest, especially Canon Walsh, and would result in a stern glance and possible words after Mass. That is not something which a young server relishes."
Six years later, Fr Kieran Dodd joined the parish and remained for 15 years. He was assisted by several priests. Michael has vivid memories of them.
"The servers would have a weekly Friday meeting to set up the jobs rota for the following week's services. Fr Jim McCormack was one of the first assistant priests and was particularly good at baking cakes although he would never admit to this. The strange thing was that there was always enough cake to go round for almost 150 altar servers."  He recalls that the numbers dropped slightly after Fr Jim moved to his new parish. "Fr McCormack was entirely committed to the servers and arranged trips to the seaside, football games and because of the numbers, we had our own servers' league."
Then came Fr Bob Hamill, a newly ordained priest who would speak to the teenagers about football but, more importantly, his love of rugby. His wicked humour struck a chord with the servers, the young people of the parish and schools that he attended.  "He was quickly put in charge of the servers. Like Fr McCormack before him, he was popular with them and in 1974 more than 115 servers were received into the Guild of Saint Stephen. I don't know whether this is a record but it was clear that the parish had to count the pennies as the medals were not made of metal but plastic."  Michael recalls that on Saint Stephen's Day the servers had to squeeze tightly on the altar as there was so little space, with slightly alarming consequences. "One of the servers' response sheets caught alight and had to be stamped out. You would expect this to have been a serious holdup but, due to the numbers, it was not picked up by any of the parishioners. Thank goodness for solid floors!"
Fr Pat Cavanagh replaced Fr Dodd in 1988 and was later assisted by Fr Joseph Tan. In the millennium year, having being a server for 33 years, Michael received his silver medal.
"I was the first server from Saints Peter and Paul to receive this but am pleased to say that many have followed and there are currently 18 holding silver who serve regularly.  Michael Fitch, who was the Parish MC during Fr Cavanagh and Fr Lavin's time, received his silver medal before me, but in his home parish at St Teresa, Newbury Park."
He says his most memorable day was when the parish was invited to have Mass in the Hospital Chapel of St Mary the Virgin and St Thomas of Canterbury. "At first glance this may not seem particularly interesting until it is understood that it was an event of significant historical importance: the last Catholic Mass held there was in November 1558," he says. He and a fellow senior server, Alex Gnanapragasam, served on two memorable occasions in the Chapel. "I would recommend a visit for anyone interested in history," he says. "It dates back to 1140 and is the oldest building in Ilford. It is a beautiful and quiet part of Ilford where time has stood still."
He concludes: "I cannot recommend strongly enough that adults and young people alike take up the ministry of serving. I never tire of being asked to serve at fellow servers' weddings and I love to teach servers and encourage them to take more responsibility and grow in confidence. Society has many issues, yet the Church, through Christ's teaching, provides guidance and a way to true happiness and contentment. I feel that I have been privileged in life and pray that people who have lost their sense of direction in life come to understand what our faith has to offer them."