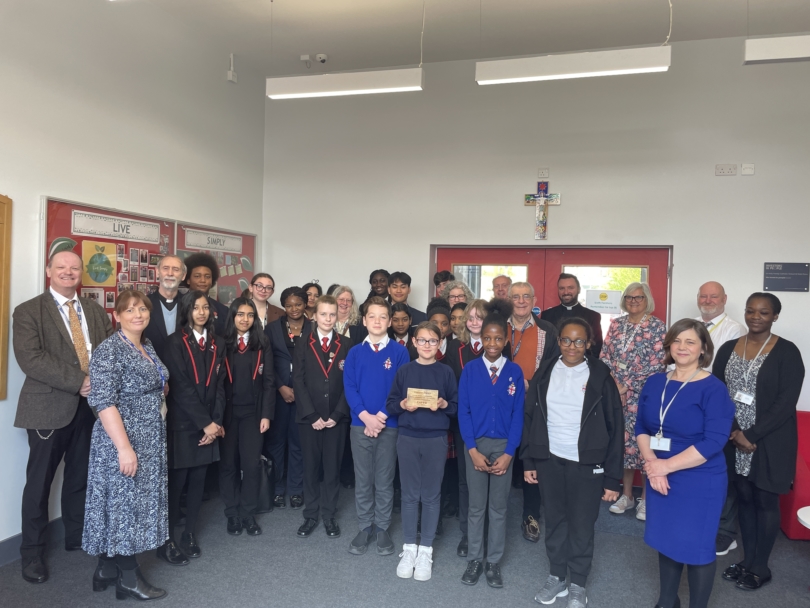 Students and staff from Holy Family Catholic School and Sixth Form have achieved the LiveSimply Award after taking action to demonstrate they are living simply, sustainably and in solidarity with the world's poorest communities. It is the first secondary school in the Diocese of Brentwood to do so.
Championed by overseas development charity CAFOD, the award was presented to pupils and staff on 31 January 2023. Holy Family implemented a number of projects that highlighted the importance of caring for people and the planet. Their actions had a positive impact on their school community and also reached out to embrace the local community and our global community too.
In April, we were delighted to welcome Bishop Alan to our LiveSimply presentation, alongside John Birbeck from CAFOD and local clergy Canon Niall and Fr Michael from Our Lady & St George parish.
The journey had begun in 2019 when the school had a Year of Sustainability. Students in the Eco-Council undertook an energy audit and more energy efficient classroom lighting was installed. They also surveyed the building for draughts and areas where energy was escaping so these could be remedied as and when school building works were undertaken.
Trees and bulbs were planted around the school site by a number of student groups, including pupils from our neighbouring primary school, Our Lady & St George Primary.
Other projects included hampers for the SVP and Christian Kitchen (a street homeless charity) and Easter eggs for Whipps Cross Hospital and children travelling to Lourdes. We were very pleased that we were able to continue these activities even during lockdown.
William in Year 11 took part in the LiveSimply Award as part of his Duke of Edinburgh Award, volunteering to maintain the prayer garden and helping with the tree and bulb planting. He said he appreciated the opportunity to work in the garden, not only because it had an impact on the school environment but because he found it a space to relax and find time for himself.
Chaplain Mrs Grierson, who led the LiveSimply journey,  said:
"It has been wonderful to see groups from across the school come together for the LiveSimply award. They have found a new appreciation for nature and the school environment. All year groups have a Retreat session about the impact our actions have on our global family, our local community and our school community, reflecting on the teachings of Laudato Si and Catholic Social Teaching.
CAFOD's LiveSimply assessor Siobhan Farnell said:
"Congratulations to the pupils and staff from Holy Family achieving the LiveSimply Award. The students were keen to share and to 'appreciate the small things' and to know how blessed they are with what they have was inspiring."