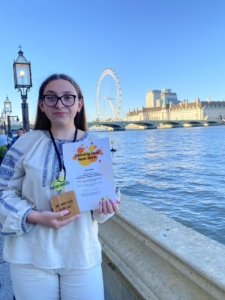 Vira Vitiv, a Year 12 student at Holy Family Catholic School in Walthamstow, went to the House of Commons as a finalist in the Million Minutes Celebrating Young People Awards recently – and won the Jimmy Mizen Award.
Says School Chaplain Denise Grierson: "Vira has always demonstrated strong empathy with others and been involved with fundraising and charity work but, with the start of the conflict in Ukraine, she knew she had to do something special.  Her motivation was heightened by her own Ukrainian roots – she has family in the country – and, as an attendee at the Ukrainian Catholic Cathedral of the Holy Family in central London, she was able to get information about the needs of the Ukrainian community quickly."
As soon as the conflict in Ukraine began, Vira approached the school through the Head of RE and then the Headteacher, to organise a donation drive. Liaising with the clergy at the Cathedral, she found out what was required and arranged for in-school collections of goods, food and other items.
She then approached the school to arrange a non-uniform fundraiser and recently presented the Cathedral with a cheque for over £1,400 which has been sent to Caritas-SPES in Ukraine.  She continues to attend rallies against the conflict and regularly volunteers with the sorting of donated items, making up bags for displaced children, packing items for onward distribution to Ukraine. And she has been a spokesperson for how the Ukrainian community in London has responded to the events in their home country.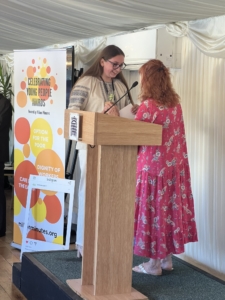 Says Denise: "Vira embodies the mission of Caritas-SPES, which means 'love' and 'hope' in Latin. Her Million Minutes accolade was 'the Jimmy Mizen Award' – recognising young people who have shown a firm and persevering commitment to peacemaking and solidarity between people. We are very proud of her."
The attached photo is Vira receiving the award this evening from Margaret Mizen, mother of Jimmy, who was murdered in 2008.
Vira was also delighted to meet with Cardinal Nichols at the event. Vira was accompanied by her very proud parents.