On Thursday 23 March 2017, the Homelessness Reduction Bill passed its third and final reading in the House of Lords. The moment signalled the end of the Bill's passage through Parliament, and once it is signed by the Queen and receives Royal Assent in the next few months, it will become an Act.
Throughout its time in Parliament, the bill has received cross-party support, and in its third reading, it was passed without opposition. It also has the backing of the Government, who have pledged a total of £61 million to local authorities to help implement the bill.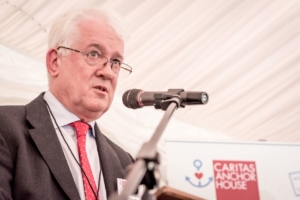 Keith Fernett, Chief Executive of homelessness charity Caritas Anchor House, said:
"I am delighted to see that the Homelessness Reduction Bill has been passed by the House of Lords. The bill is the most significant reform to homelessness legislation in England for 40 years and its passage means that those experiencing or at risk of homelessness will finally receive the support they need.
"I would like to thank everyone who has backed the bill, including Bob Blackman MP who introduced it as a Private Member Bill, our local MPs Lyn Brown and Stephen Timms, and of course all of the organisations involved, particularly Crisis.
"The passing of the bill is a major victory and will prevent many more people from losing their homes; however, it is by no means the sole solution to end homelessness. I urge the Government to invest in affordable and social housing, introduce rent controls and consider ways to tackle the increasingly sky-high housing costs."   
The soon-to-be Homelessness Reduction Act will not come into effect immediately – that is expected in early 2018 – as councils need time to prepare for the changes, and the government has to write new guidance on how to deliver the duties. The key points are:
A prevention duty: a new duty for councils to try and prevent the homelessness of people who are at risk of becoming homeless in the next 56 days, provided they are eligible for assistance on the basis of their immigration status.
A relief duty: a new duty for councils to try and resolve the homelessness of people who are already homeless. To qualify for help they must be eligible for assistance on the basis of their immigration status and have a connection to the local area, otherwise they can be referred to another local authority.
Measures to incentivise cooperation: People being helped under the prevention and relief duties will be expected to take reasonable steps to resolve their own homelessness.
A duty to refer: a new duty on other public services to refer people to council homelessness teams if they are working with people who are homeless or at risk of homelessness.
Continued protection for families: councils are required under existing law to house homeless families, if they meet a number of tests. The Bill maintains these protections in cases where councils are unable to help families under the new prevention and relief duties.