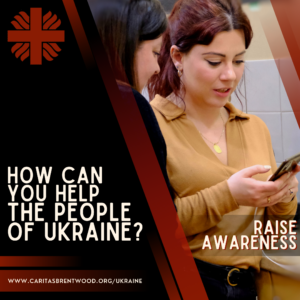 Caritas Diocese of Brentwood has expressed solidarity with the Ukrainian people and published advice and guidance for people across the Diocese who want to help. Its dedicated webpage details ways that people can help – through prayer and financial donations: www.caritasbrentwood.org/ukraine
Sian Thomas, Development Coordinator, has been acting as a focal point for information re official collections and has issued a prayer card for parishes and schools.  Some schools – the Brentwood Ursuline is an example – are selling blue and yellow ribbons to raise funds and help raise awareness.
Caritas Ukraine and Caritas agencies in neighbouring countries are already helping people impacted by the conflict. The UNHCR says over 1 million people have fled Ukraine into neighbouring countries (mainly to Poland, Hungary, Moldova and Romania), with thousands more having to leave their homes inside Ukraine.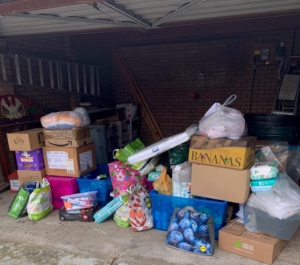 Many parishes and communities across Essex and East London have been collecting items to donate to those displaced by the conflict. Shoeburyness parish, for example, collected a garage worth of donations in a day and a half after a message from a parishioner about a local Polish collection for Ukrainian refugees. Says parish administrator Sharon Chambers: "The local Polish café in Westcliff was being used as a collecting point with a lorry leaving at the weekend. We didn't have time to put it out in the newsletter so I posted it on Facebook. One lady turned up with two car loads of stuff collected from friends."
The Cathedral Parish, meanwhile, also has a Polish connection and has been collecting donations. The goods will be passed on to the Polish Red Cross through the Polish White Eagle Club. "This is being coordinated by a Polish member of the parish community," says Brenda Underwood, who is part of the Love in Action group at the Cathedral.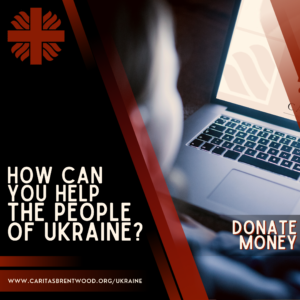 The parish is also encouraging parishioners to donate funds via CAFOD and this is now the preferred approach, according to the agency itself.  It says: "People's generosity in wanting to respond to the situation in Ukraine is remarkable. This generosity is best expressed through donations of money rather than goods. Caritas agencies in Poland and Slovakia already have warehouses of supplies and find it difficult to receive in kind donations and this is also the case in Ukraine. They have all confirmed financial support is the most helpful form of donation. This enables them to focus on assessing what is needed and gives them the resources to do this most efficiently."
The UK government has promised to match funding through the DEC Ukraine Humanitarian Appeal, of which CAFOD is a member:
https://cafod.org.uk/Give/Donate-to-Emergencies/Ukraine-Humanitarian-Appeal
The Caritas web page has direct links to donate money.