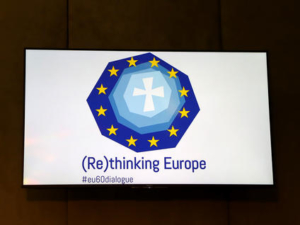 From 27-29 October Bishop Nicholas Hudson led a delegation from England and Wales to the Congress "Rethinking Europe: Christian contributions to the future of the European project" in the Vatican which was organised by Comece (Commission of the Bishops' Conferences of the European Community). The Congress was made up of political, academic, civil society and Church representatives from all European Union countries.
Following the Congress, which was held under Chatham House rules, Bishop Hudson said: "The Congress has been fascinating, bringing together politicians, academics, representatives of civil society and the Church. It has brought home how much the Church in England and Wales needs to remain a part of the continuing dialogue between the Church in Europe and the European Union. As the Prime Minister said recently in Florence we may be leaving the European Union but we remain part of Europe and so many of our concerns are shared.
"The constructive dialogue of the past few days focused on the Christian values which underpin the European project and the need to ensure these values are promoted whatever the changing political structures. Placing the human at the heart of our communities across Europe was central to the Pope's address to the Congress.
"Our solidarity with the poor, weak and vulnerable is an essential part of the Christian call to protect and nurture life. This was graphically illustrated when we were hosted in the middle of the Congress by the community of Sant' Egidio who give prophetic witness to this calling by placing people with learning disabilities at the heart of all they do.
"I came away from Rome with a profound sense that whatever happens in current negotiations, we will have a continuing part to play in shaping the way forward for our continent. Our future is tied to our brothers and sisters in Europe as we too seek to put the human at the centre of all we do."
Read Pope Francis' speech here: Pope Francis on European project