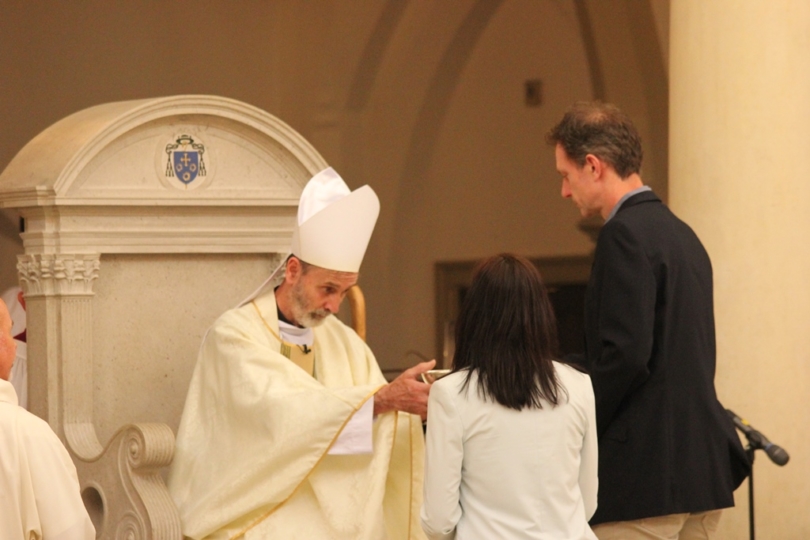 On Saturday 15 July approximately 350 people, mostly married couples, joined Bishop Alan and Fr Matthew Bemand-Qureshi, Director for Marriage and Family Life, in the Cathedral, for a celebration of Mass in thanksgiving for marriage and family life. Many of the couples had celebrated significant anniversaries during the year, including silver, ruby, golden and even diamond anniversaries. (In the picture above, for example, Bishop Alan receives the gifts from Rob and Michelle Caulfield, celebrating their anniversary that day.) Other couples had got married recently or were about to get married, including a number of couples who had just taken part in a Marriage Care 'Preparing Together' Day in the Cathedral Hall.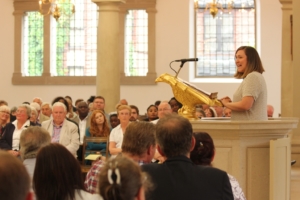 In his homily, reflecting on the wedding feast at Cana, Bishop Alan spoke of the need for grace to overcome times of tension in family life, so that marriage and the family can be a real source of joy as God intends.
At the end of Mass Fr Matthew introduced some of the groups within the diocese that support family life and help couples in living out the sacrament of marriage. Sheila Wright of Marriage Care and Anna McCormick (right) of Explore then spoke of the work their organisations do, and invited people to consider offering their time.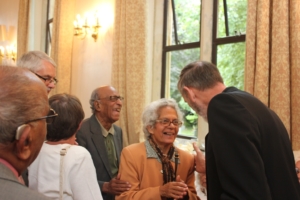 After Mass the celebration continued in the Hall with wedding cake and wine (not produced miraculously!). It is hoped that the Marriage and Family Life Mass will become an annual event.
For more information about support available and opportunities to help please email [email protected].
 Pictures by Phil Butcher
Maureen and Brian Devine write:
"We were delighted to be invited to the celebration of the Mass and particularly being asked to read.  We liked how Bishop Alan likened the events at Cana to the events that go wrong in our own lives and how Jesus can change the failures into something far more than we could have ever hoped for.
"It was a joy to see the different nationalities there, the different ages, and of course those from our own parish, all with some special anniversary to celebrate.  We were there representing our small group Two in One Flesh (TIOF) and we met people from Marriage Care, Marriage Encounter and Teams of our Lady, all different movements that help support marriage, and encourage couples grow in awareness of its profundity, its origin, its beauty rooted in God's own self-giving. Such an understanding of the dynamic source of spousal love was supported in a beautifully simple way by Bishop Alan encouraging all of us to stay focused on the goodness in each other and in our marriages."