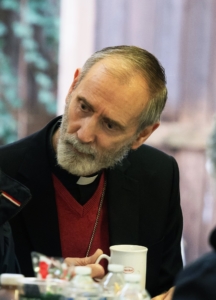 An invitation from Bishop Alan
As Bishop in our Diocese of Brentwood, I am so often deeply touched by the moving and faithful witness of ordinary Catholic men and women amidst the complexity of daily life and the challenges of our world of today.
I am aware, however, that I only really hear but a small slice of the stories, experiences and wisdom of baptised Catholics across and beyond our diocese, and that as a Church we need to listen beyond our current synod journey and our vision process. Indeed, as we emerge from the global pandemic into a rapidly changing world, we need to listen more deeply, more humbly and more widely to the experiences of all Catholics – for that is indeed where the Holy Spirit breathes and speaks.
There are many people in Brentwood and beyond, who were baptised Catholic, but for one reason or another have lost interest in what the Catholic Church has to say. If you feel this way, then as your Bishop, I'd love to hear from you!
On the other hand, you may feel that you are still interested and are attracted to the Church, but you don't have time for Sunday Mass. Or perhaps you find church boring, or your local parish unfriendly? Or maybe you haven't returned to the Church since the Covid pandemic. If this is you, I would love to hear from you.
Sadly, there are some who feel alienated from the Church because it has harmed or rejected them in some way. Again, if this is you, I would very much like to hear from you.
This survey provides a space for your story and experience to be shared and heard, and seriously listened to by both me as your Bishop and our wider diocesan Church.
So, if you know someone who no longer comes to Mass, or feels that they belong in the Church – perhaps a friend or family member, neighbour or colleague, or maybe even you – then I would love to hear from you or them through this short survey at the link below, which I ask you to share as widely as possible.
https://cambridge.eu.qualtrics.com/jfe/form/SV_9Gn08WXvvKfwJts
Thank you for taking the time to share your thoughts, your stories, and experiences.
Yours in Christ and Mary,
+ Alan
Alan Williams sm
Bishop of Brentwood
Web- Bishop Alan Listens- Brentwood Research Invitation
Listen again here to an interview with Fr Liam Hayes, who is running the research, on BBC Essex