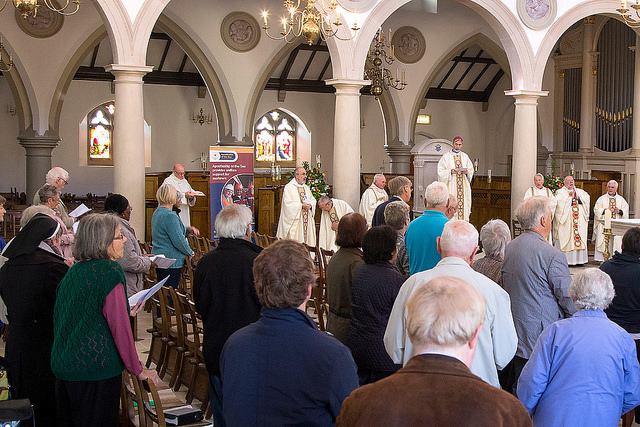 Last month Bishop Alan Williams celebrated the inaugural Stella Maris Mass at Brentwood Cathedral.
Organised by Apostleship of the Sea (AoS), the Mass was held in honour of Our Lady Star of the Sea, Stella Maris, and attended by AoS port chaplains in the diocese Patricia Ezra and Wojciech Holub, supporters and volunteers.
In his homily Bishop Alan said: "The sheer volume of goods, materials, medicines and other products arriving by sea into the ports of Tilbury, Harwich and other ports here in our Diocese, brings home to us the huge debt and thanks we owe to seafarers and those who support them.
"We are rarely in a position to show our gratitude to them but here this morning we are able to do so. We thank God for seafarers, their families and those caring for them."
Bishop Alan also thanked all the parishioners and the many volunteers who lend their support to seafarers and the work of AoS in one way or the other, who put into practice what St. Matthew says: "For I was hungry and you gave me food, I was thirsty and you gave me drink, I was a stranger and you made me welcome, lacking clothes and you clothed me, sick and you visited me."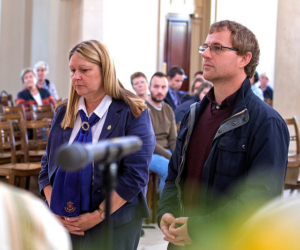 "That is exactly what is happening every day of the year in ports in Great Britain in over the world. We give thanks to God for all the seafarers and their families, for the work of AoS, its chaplains and volunteers, and the many parishioners who support their work."
Bishop Alan commissioned Wojciech Holub and Patricia Ezra (right) – two AoS port chaplains who work in the Diocese – during Mass.
Martin Foley, AoS National Director, said, "I would like to thank Bishop Alan for leading our celebration of Mass and the diocese of Brentwood for their ongoing support for our work.
Pictures by Graham Hillman