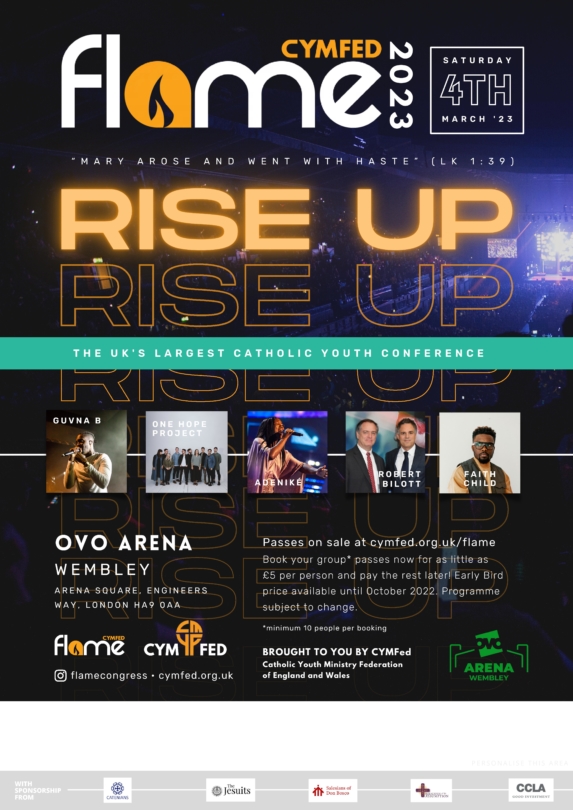 The Flame Congress is back! It will be held at OVO Arena Wembley on Saturday 4 March 2023 and you are invited!
This whole day event has an expected attendance of 8,000+ from all over the country – it is the largest Catholic youth event in the UK, full of faith, inspiration, energy and joy. National and international speakers, musicians and senior church leaders will give superb input. They include:
Guvna B sharing award-winning music and personal testimony
Adenike, an amazing and gifted singer – who was once a young person with her parish at Flame!
David Wells sharing accompaniment and inspiration
Faith Child and joyful choir, full of praise and joy
Robert Billot telling the story of the exceptional and powerful film Dark Waters
One Hope Project leading reflective music to inspire praise and worship
Brenden and Georgia from Catholic Voices, introducing Adoration
Cardinal Vincent Nichols preaching during Adoration
Premier Radio DJs leading the warm-up hour
Youth Director Claire Bailey says: "It costs just £24 for 'earlybird' tickets (before 30 October) and the BCYS has secured 300 of these – of which over 200 have already been allocated to parishes and schools, following previous mailings. Now is the time to reserve your tickets as we can expand our allocation if needed, but can only do this with firm bookings. Tickets are allocated first come, first served, so the earlier you confirm, the better the seats we can arrange. It is much better to book with the BCYS rather than direct with Flame as Bishop Alan will sit with the BCYS block, and we'll also be able to help build Diocesan identity as people from across the Diocese mix and mingle. "
Find out more about Flame – including a trailer, which will be especially helpful if you have not been before – on the website https://cymfed.org.uk/flame/
To be part of the BCYS allocation, or if you have any questions, please email [email protected] You'll be asked just for a £5 deposit per ticket at this stage, with the full balance due at the end of October.