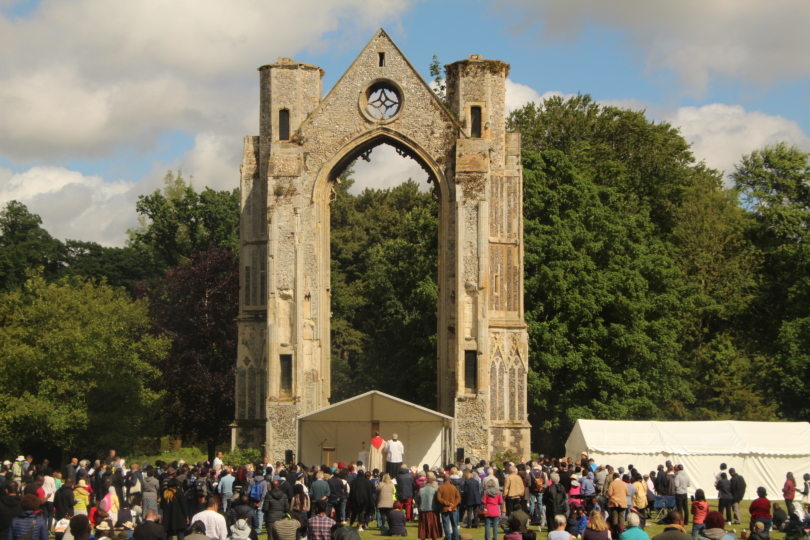 This year's Diocesan Pilgrimage to Walsingham will take place on 27 May 2023.
You are warmly invited to join Bishop Alan and other parishes around the Diocese of Brentwood in Walsingham. We will celebrate Mass at the Basilica and have lunch (packed) before walking the Holy Mile to the grounds of Walsingham Abbey to celebrate Vespers and Benediction on the site of the Holy House. (People with mobility issues, wheelchairs and buggies, prams and/or pushchairs will be able to travel from the Shrine to the Abbey Grounds by coach if they are unable to manage the terrain of the Holy Mile.)
Fr Daniel Kelly, parish priest at the Royal Docks, organises the pilgrimage. He says: "Last year's family-focused pilgrimage was a record breaker, so I look forward to seeing as many of you as possible this year to break the record once again! If you would like to come please contact your parish representative as soon as possible to ensure coaches are booked.
Last year's pilgrimage was designed to be particularly family-friendly to dovetail with the X World Meeting of Families in late June. Many families responded to the invitation, with over 1,000 people attending. Read more here: Families enjoy 'a special day' at Walsingham – Brentwood Diocese (dioceseofbrentwood.net)
See details of this year's pilgrimage here: Walsingham Poster