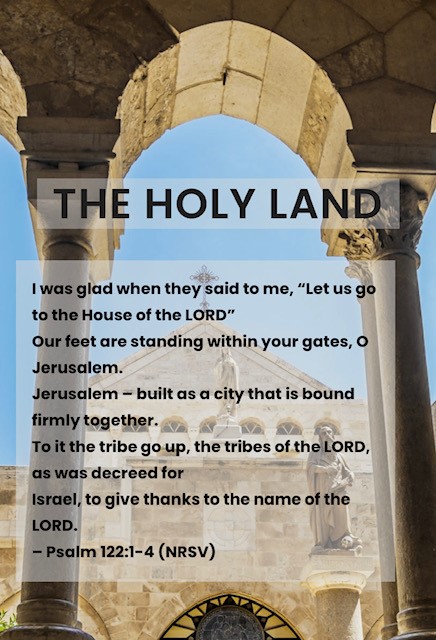 Join Fr John Moloney on a luxury, all-inclusive pilgrimage to the Holy Land, 5 – 12 September 2023, with All Saints Travel Ltd. Be face to face with the world of Jesus and His Gospel, lived out before your eyes. The beautiful, tried and tested, eight-day itinerary promises to bring the faithful pilgrim an unforgettable and life-changing experience.
This pilgrimage will include visits to: the Church of Nativity, the Holy Sepulchre, the Basilica of Annunciation and the Church of Transfiguration, as well as the Holy Tomb of Jesus, Mount Calvary, the Mount of Olives and the Mount of Beatitudes.
It will also include a non-stop return flight from the UK to Tel Aviv with Israel's national airline, EL AL (in-flight meals included), all meals (breakfast, lunch and dinner every day), an executive touring coach, a professional local Christian guide, all entrance fees, all tips and gratuities (paid directly to the guide, driver and hotel staff), as well as luxurious 5-star en-suite accommodation. You will stay at a 5-star hotel in Jerusalem for four nights and in a 5-star hotel set on the Sea of Galilee with stunning views and private beach access for three nights.
Luxury Tour with Fr John Moloney – Itinerary
For further details tel. 07833 773 060
Full details are online https://www.allsaintstravel.co.uk/HL0756/.