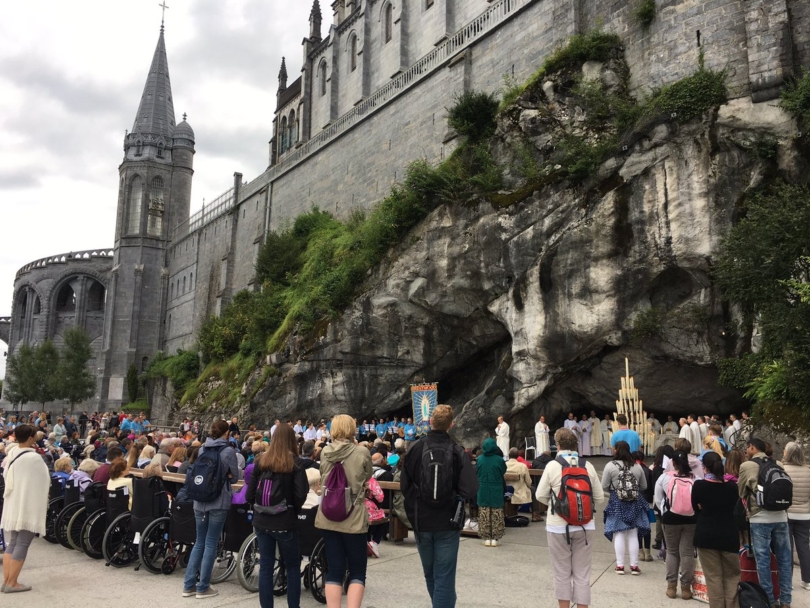 This summer the Brentwood Catholic Youth Service is taking a record 253 young people and leaders to Lourdes. Many of them have great skills in social and digital media and so, building on last year's pilot, the group is continuing and developing the 'virtual pilgrimage'.  For elderly and housebound parishioners, who are unable to be in Lourdes this summer, the 'virtual pilgrimage' is a chance for them to hear the homily at Mass each day, and have a flavour of the pilgrimage through video clips, interviews with pilgrims of all ages, interviews with clergy and with Bishop Alan. And, of course, other people who may never have been to Lourdes can see what it is all about.
Fr Dominic Howarth, who works closely with the Brentwood Catholic Youth Service, says: "We will also publicise the moments when the Diocese will feature on 'Lourdes TV' – Mass at the Grotto (Tuesday 24, 7.30am UK time); the Torchlight procession (Tuesday 24, 8.00pm) and the Blessed Sacrament Procession (Wednesday 25, 4.00pm) as well as Tour de France, starting from Lourdes (Friday 27, 8am – 11am). The link is www.lourdes-france.org/en/tv-lourdes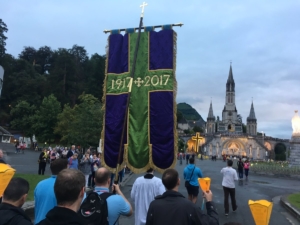 He advises those who have not already seen it, to view the powerful interview with Fr Bob Hammill from 2017 about the work he does with the Catholic Fellowship at https://www.youtube.com/watch?v=kVmu481ux8M&index=11&t=0s&list=PLESr0mOwfx_ZZDdNlqULF-VWhTv1Jufcn
He adds: "If  you would like to see a lovely intro to Lourdes through the eyes of the young then click onto https://www.youtube.com/watch?v=7ZX858RVHHg&list=PLESr0mOwfx_ZZDdNlqULF-VWhTv1Jufcn&index=7 
Fr Dominic is asking parishes to publicise the 'virtual pilgrimage' as widely as possible. "In particular, if your Extraordinary Ministers of Holy Communion, or others visiting the housebound, have a laptop, it could be a wonderful way to help them enjoy Lourdes."
To find the virtual pilgrimage links, go to www.bcys.net or find BCYS on Twitter, Facebook or Instagram.