The relics of St Bernadette have left Brentwood Cathedral after just over 24 hours in the building. In that short time they have touched the lives of many people.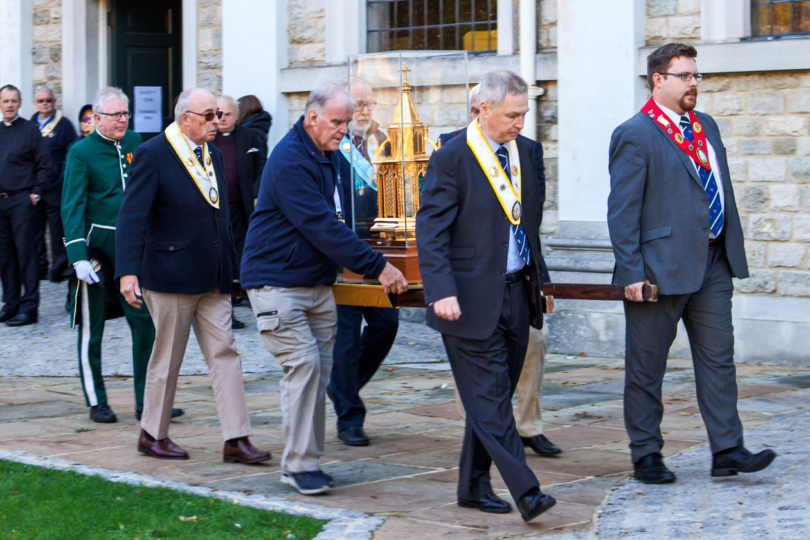 The Cathedral has received large numbers of visitors both at the 11.30am Mass with Bishop Alan and during the day. The Youth Mass at 6.30pm was also packed with young people and families, and was animated by the Brentwood Catholic Youth Service. Fr Dominic Howarth, BCYS chaplain, gave a thought-provoking homily (Homily for Youth Mass in the presence of the Relics of St Bernadette Oct 16 2022), explaining St Bernadette's story and drawing parallels for the many teenagers present. Focusing on the reliquary housing the fragments of her skin, bone and hair, he said: "Written on one side is the phrase 'Il suffit d'aimer' – 'To love is enough'. You could reflect and pray about that phrase for hours. Another time she put it like this: 'I shall spend every moment loving.' Perhaps those are the words that knock on the door of your heart?
"Or perhaps it is this. St Bernadette said, 'If your dream should fall and break into a thousand pieces… never be afraid to pick one of those pieces up and begin again. That's the beauty of being alive… We can always start all over again.' There is such joy and inspiration in those words – and yet we can also feel the searing pain of someone who has known hard times and shattered dreams."
Bernadette, he said, was poor, ill and suffered from asthma. "Picture the teenage Bernadette sitting in the cave, perhaps a bit tetchy, cold or hungry, irritated that her friends had gone off on to the other side of the river. Her concerns may stir deeply in your heart – as Bernadette contemplates her life, let her questions mingle with yours. Perhaps there are times where you feel alone. Perhaps you are ill – or you have a friend or family member that is ill – and the illness makes no sense to you, and saddens you, or frightens you. Perhaps your family is suffering from cold or hunger, or you know people who are. Put your teenage hand into Bernadette's teenage hand. Feel her pulse of faith. You are not alone. It is what the Saints do – they accompany us, and they understand us precisely because of the lives they have led. Let Bernadette accompany you."
He explained the story of Bernadette digging in the mud of the cave at the behest of the beautiful lady she saw, and finding clear, alpine water; how the priests would not believe in her apparitions but that she would not give up or be silenced.  Fr Dominic likened this to the times that young people's voices are ignored or shut down, on the environment, on injustice, about living as Jesus lived welcoming everyone, with no exceptions or exclusions. When that happens, he said, notice Bernadette at your side. "She said: 'My job is to inform, not to convince.'  So speak as Bernadette did – calmly, clearly, and with the truth and love of faith."
He invited those present to come to Lourdes, "a town full of joy; a place where those who are ill always come first". He added: "If you are young, come to help those who are of different generations, so that they can experience Lourdes as well. If you are ill, or frail, come on pilgrimage knowing that you will be helped every step of the way."
He concluded by saying: "As you stand close to the reliquary after Mass, remember the fragments of skin, hair and bone are from the same body that saw Our Lady, in the cave in Lourdes. The hands that carried the first candle to the grotto. The legs that ran to and from the house of the priests, until they believed her. And remember the words of Pope Benedict: 'The relics of the saints are traces of that invisible but real presence which sheds light upon the shadows of the world.' Whatever your shadows, tonight, bring them from your heart to the heart of a Saint who understands. Dare to pick up the fragment of a shattered dream – or help someone else pick up a fragment of their dream. Let Bernadette accompany you as you bring the shadows and lights of your life and heart to God. Here. Tonight. And when you go from here, may the words of St Bernadette direct your life: 'To love is enough.'"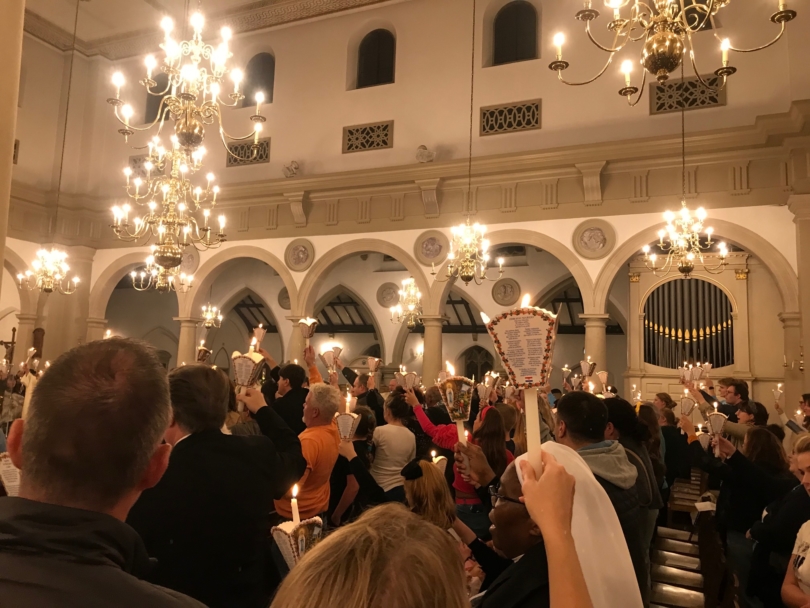 Afterwards, one parish family said how much they had enjoyed the Mass, which ended with lighted candles held aloft as the congregation sang Ave Maria, in imitation of the Lourdes Torchlight Procession. "This was a once-in-a-lifetime opportunity which makes you want to go to Lourdes itself. I might go next year," said one grandmother. Her daughter, with a child in a pushchair, spoke of "a great sense of community", particularly when the candles were lit.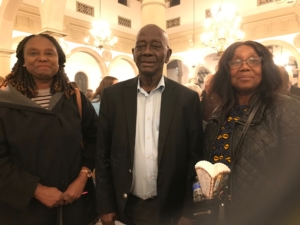 Other attendees had come to remember loved ones or those who were sick. Frederick Akwaboah had come from Hornchurch, St Mary's with friends Agnes and Patricia. All three were glad to have been present. "I heard that the relics were coming and wanted to pray for my daughter who has been to Lourdes and is unwell and my wife who died last year," said Frederick. "It was my first time in the Cathedral and I really enjoyed it."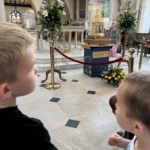 Much earlier in the day, teacher Andy Lewis had brought his own children to venerate the relics. He said the van in which the relics travelled was a source of great excitement to his boys: "It was followed by praying the rosary inside the cathedral and then some prayers with the relics. A special half an hour with the boys. All taken VERY seriously by them both!"
He concluded: "This was such a special day for me. Lourdes is one of the most special places in the world to me. And to have even just a part of that near home, and with my kids, today was incredible. Let's book to go…"
On 18 October at 10am the relics will arrive at Our Lady of Lourdes, Wanstead and leave the following morning. If you are wondering whether to make the trip to Wanstead to visit the relics, listen to these interviews with BBC Essex with Fr Martin Boland, Dean of the Cathedral, Harry Rawcliffe, chaplain at Campion School, and Cathy O'Connor, administrative director of the Diocesan Lourdes Pilgrimage.
Pictures by Graham Hillman