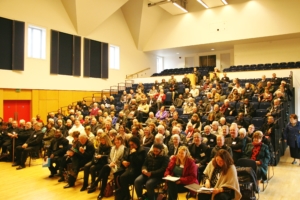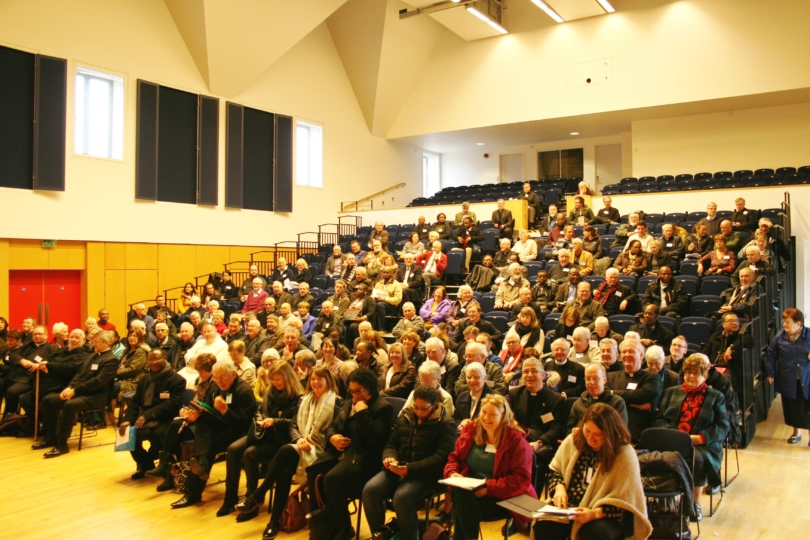 An assembly of clergy and lay 'Stewards of the Gospel' from each parish in the Diocese heard this exhortation from Bishop Alan Williams sm, as he talked about the discernment and collaboration necessary to drive forward evangelisation and a change process in the Diocese of Brentwood.
The meeting was an opportunity both for collaboration on ways of working that could ease the workload – and potential isolation – of priests, and for the sharing of ideas on evangelisation and outreach. It was also the first opportunity for those involved to hear from Steve Webb (below right), whose appointment as Director of Development for the Diocese is part of the Stewards initiative begun last year.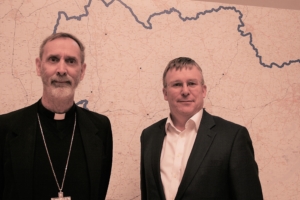 In an upbeat address, he said that change has always been part of the Church's history, pointing out that Jesus himself did not come to maintain the status quo. "Pope Francis has encouraged the Christian faithful to embark on a new wave of evangelisation and the responsibility falls to us to develop our church for the future so more people can hear the Gospel message. We must transform ourselves and our parishes – the goals, structures, styles and methods of evangelisation in our diocese".
As director of development, he said, he would not be blindly optimistic but realistic. "I intend to look at everything afresh in this time of discernment, decision-making and change for our diocese."
He said that the plan must include a new and exciting relationship between laity and priests. "If we engage in a fruitful dialogue, we can do almost anything."
For some people, change is a very scary word, he added, and there are different responses to the change process. But he promised his audience that everyone would be listened to and taken seriously, before mapping out a timeline of discussion and collaboration which would culminate in the publication of a vision for the Diocese in 2019.
The meeting also heard perspectives from priests Fr David Clements and Fr Dan Mason, before breaking into small discussion groups which were instrumental in building relationships between clergy and stewards from various parts of the Diocese.
Bishop Alan concluded the meeting by reiterating his concern for hard-working clergy – and passionately commended the collaborative change process to his audience. "I really want to go for this, so come to the table and get involved. Let us end Lent in a better place than we are now."
To read more go to the Evangelisation pages.