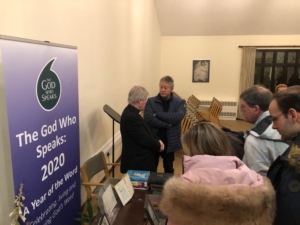 Following the canonisation of Saint John Henry Newman in Rome last week, diocesan archivist and historian Fr Stewart Foster gave a lecture in Brentwood Cathedral Hall on the life and times of the great man.
If you missed it or would like to hear it again, you can listen below.
Fr Stewart also recommends the following publications:
Father Ian Ker, John Henry Newman: His Life & Legacy (London, CTS, 2019: pp.64, £3.50  paperback ISBN 978-1-78469-622-1) is a revised edition of his earlier booklet for the CTS published in 2010. Ian Ker is, arguably, the most eminent of living Newman scholars who here offers a very good synopsis of the new saint's life and significance.
Eamon Duffy, John Henry Newman: A Very Brief History (London, SPCK, 2019: pp. xxi+145, £12.99 hardback ISBN 978-0-281-07849-3) is by the celebrated historian of (chiefly) late medieval and early modern English Catholicism who here provides a short introduction to Newman's life and writings. It has a particularly good chronology of Newman's life to which it is useful to refer back when reading the main body of the text.
For those who have access to the Irish theological journal The Furrow (either in hard copy or online), the October 2019 issue (vol. 70, no. 10, pp. 540-544) has a brief but excellent article by the Bishop Emeritus of Raphoe, Philip Boyce OCD, who is a renowned Newman scholar, particularly in the field of the new saint's Mariology. This article is entitled 'Tokens of Holiness in Blessed John Henry Newman' and is especially good on the often misunderstood teaching of Newman on conscience and authority.
The Life and Times of Saint John Henry Newman