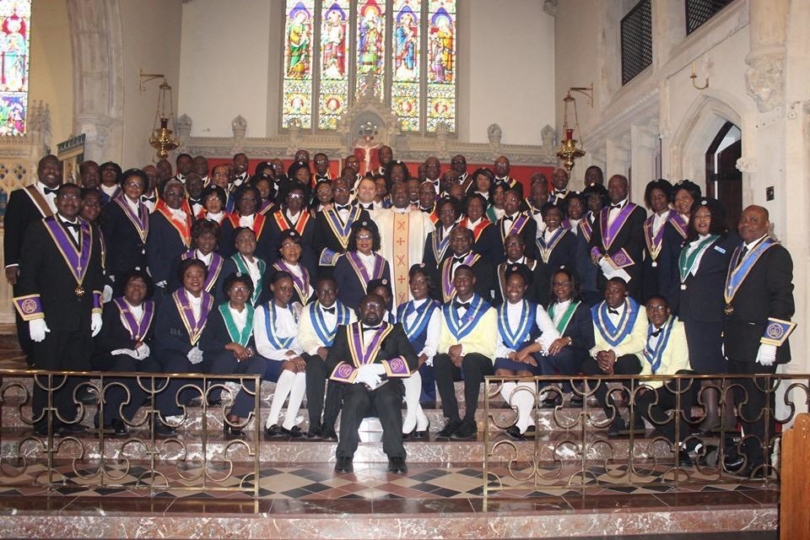 The London branch of a Catholic friendly society, the Noble Order of the Knights and Ladies of Marshall, is launching its charity 'Marshallan Charitable Incorporated Organisation (Maredes)' for the homeless and disadvantaged on 10 September 2022. As highlighted in the organisation's website https://marshallan.org/charity-work/, Marshallans champion the cause of charity, as faithful friends to the poor, distressed and needy in the society. "We help to change the community, town or city in which we find ourselves through charitable activities to support churches, communities, families, youth groups, hospitals, etc." The group has supported London homelessness charity, Caritas Anchor House, over many years, for example.
The new initiative has been some time in the planning. The aspiration to set up a charitable wing of the Order in the UK was delayed by the pandemic, but the long-standing ambition to set up a charity in the UK has now been realised. In collaboration with the Catholic Church in England, the Order has finally succeeded in securing Charitable Incorporated Organisation status in the UK.
The Marshallan initiative aims to:
support the homeless to become independent, enabling them to contribute positively towards the community;
place the faith/Church into the community by helping the homeless to find their vocations/talents through trades such as electrical and plumbing training courses and coaching;
help reduce the ethnic generational dependency on government benefits;
and promote integration of homeless and disadvantaged ethnic minorities into British culture.
The inauguration of the CIO will start with Mass, to be celebrated by His Eminence Cardinal Peter Turkson, at 12.00 noon at St Antony of Padua Catholic Church, Forest Gate. After the Eucharistic celebration, the formal launch of the CIO will follow at 13.30 with refreshments afterwards at St Antony's Catholic School, Forest Gate.
The theme for the celebration is: "Strengthening our Catholic/ Christian faith: working with the needy and homeless in society". It is aimed at living the Gospel call – "Whatever you do to the least of my brothers, you do unto me" (Matthew 25:40).
The launch will be attended by the Bishop for Migrants, the Rt Rev'd Paul McAleenan, along with the Ghanaian High Commissioner, H.E. Papa Owusu-Ankomah and representatives from all the African Catholic Chaplaincies. Rokhsana Fiaz OBE, the Mayor of Newham, has also been invited. The parish priest at Forest Gate, Fr John Jesus Moloney, along with Fr William Damah CSSP, a member of the Order, and Fr Francis Ward, are lending their support in organising the event. All are warmly welcomed to attend.
The Knights and Ladies of Marshall is a Catholic friendly society and a member of the International Alliance of Catholic Knights (IACK) based in the UK and West Africa. It is named after Scotsman Sir James Marshall, who was a Chief Magistrate in the Gold Coast (now Ghana), West Africa, and championed and espoused the re-establishment of the Catholic Church there, in 1880. Its aim is to prepare Catholic men and women who work in cooperation with the hierarchy of the Church and other kindred Orders to enhance the propagation of the Gospel and for the transformation of society. Read more about Sir James Marshall here: OUR CEMETERY | St Mary Magdalen RC (stmarymags.org.uk)