A Memorial Mass is to be held for Sir David Amess at the church of Our Lady of Lourdes and St Joseph in Leigh-on-Sea on 12 November at 7pm. Sir David, MP for Southend West and a prominent Catholic, died after being stabbed at a constituency surgery in Belfairs Methodist church.
The parish priest at Leigh, Mgr Kevin Hale, knew Sir David well. With the Requiem Mass itself being held in London later in the month, he feels that local people need a focus to be able to pay their respects. "We are at the centre of his constituency and he was a good friend to the parish, with a lot of connections here. The Mass will welcome parishioners and any other members of the local community who want to come."
There have been a number of services at different churches already including one on the evening of his death in St Peter's in Eastwood, organised by parish priest Fr Jeff Woolnough, who famously tried three times to gain access to Sir David to give him the last rites. Fr Jeff, who counted Sir David as a friend and shared his East End heritage, said: "David wore his Catholic faith on his sleeve and was always joyful. He proclaimed the gospel by being himself and was a great advert for being a Christian."
A stone's throw from Belfairs, Fr Jeff was quickly on the scene after hearing that Sir David had been stabbed, but he was unable to gain entry to him and could only pray the rosary outside the building. One thing he could do later, though, was to arrange a Mass for the repose of Sir David's soul in St Peter's that very evening. "It had happened on my patch so I got it organised, put it on Facebook and about 80-100 people came, including the film crews from outside the church. I invited people to come to the lecturn to speak and around a dozen gave tender and loving tributes and memories of David, including the mayor and some young people, which was lovely."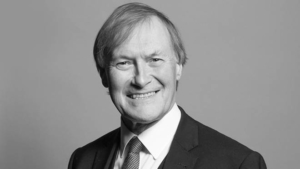 As the Southend West MP for 24 years, Sir David was very well-known and liked. He had entered Parliament in 1983 as the MP for Basildon. Against the odds, he held the seat in 1992, later switching to nearby Southend West at the 1997 election, after the death of Paul Shannon.
He was a prominent campaigner against abortion and on animal welfare issues and was passionate about education. He was also known for his championing of Southend, including a long-running campaign to win city status for the Essex town. This has been granted since his death.
He attended the episcopal ordination of the Rt Rev Alan Williams sm, Bishop of Brentwood, in 2014 and the Centenary Mass for the diocese in 2017.  Bishop Alan said: "Sir David had a deep Catholic Christian faith which expressed itself in great generosity and kindness to those he served in the wider community of Essex and East London.
"I experienced first-hand his friendliness, goodness and concern for others; he was a very fine man who gave himself wholeheartedly to public life. The manner of his dying was utterly shocking and I ask all members of the diocese to pray for Sir David and all those who will be affected by his sudden and painful absence in our lives."
Bishop Alan and Mgr Kevin will be attending Sir David's Requiem Mass on 23 November in Westminster Cathedral. Cardinal Vincent Nichols, the leader of Roman Catholics in England and Wales, will preside over the service.
Bishop Alan's predecessor, Bishop Thomas McMahon, was in post for many of the years of the MP's service. He said: "He was a very good person and very supportive. He was quick to smile and a very good constituency MP – he cared about people and was very sincere.
"I remember him smiling in the front row at Forest Gate as a St Bonaventure's old boy. And I would frequently meet him at events. From the East End himself, he would always be in favour of anything that would encourage others. Whatever he supported, he did it enthusiastically and with good humour. You knew where he stood but he was not strident or difficult. He was very supportive of Catholic issues – and we have need of voices like his very much at the moment."